Jedi Son of Spock Interview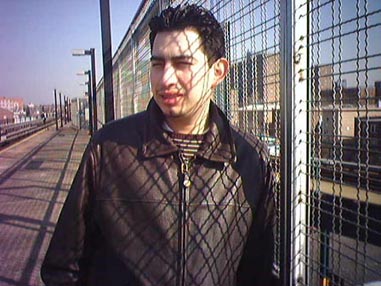 Jedi Son of Spock first came to light in the mid 90's with the underground group known as The House Of Reps. The House of Reps to this day remain by and large a mystery due to their low profile insurgence of freestyle mastery and open-mic ascendancy. As a member of the House of Reps, Jedi also appeared on DJ Shok's "S.O.S/Padlock/Shok Therapy" single on Mass Vinyl Records. This single, among other DJ Shok produced singles, led DJ Shok to go on to working with the Ruff Ryders. In the late 90's Jedi rhymed in the bathroom freestyle session on Lyricist Lounge volume One, as well as dropping a few mix tape verses for Eddie Ill & DL and the DJ Blowout MC's compilation.

Finally, he dropped his own single in the fall of 1998. The A side "The Journey" and B "Spitmode" both featured Yesh AKA Yeshua Da Poed on production. On "Spitmode" Jedi and Yesh each do a verse then trade off with amazing bar for bar chemistry, much like the Yeshua & Siah chemistry from their Fondle 'Em EP The Visualz. In addition to these songs, Jedi has recorded many unreleased tracks with The House Of Reps, and other NYC crews. With a strong affiliation to Headbop records, Jedi has done performances in Europe as well as all around the NY region. He is currently at work on his own album and some other projects.
Can you explain how you beamed onto the hiphop scene, who your early influences were, and who you listened to as you got older?
I moved into Flatbush, Brooklyn from Colombia, South America when I was about 4. No escape from this…
When I was about eight I made some exclusives tapes taking Run DMC and putting my own twist to it… I had a Jewish friend who lent me the Adventures of Slick Rick tape and from then on I thought I would write my own shit… when I was about 15 we made tapes at DJ Yooter's house…
The early influences were Slick Rick, Kane, G-Rap, Rakim, Special Ed, Tragedy, later on was Heiro, Organized, Natural Elements, Roots, Portishead, DITC, and the list goes on…
One of the first things that most people heard from you was "The Journey/Spit mode" 12-inch can you explain how that came about?
I hooked up with Yesh back when he had a fro, from there we always ran into each other at Brighton Beach and the Nuyorican Cafe…it took about a year to put that 12 together but it got done…my relation to Headbop is family…
How do you feel about the period of underground hiphop between 95-98?
A lot of talent at one time…. but I feel we can bring that vibe back to the scene…
Who is the House of Reps crew?
House of reps had many members but the main frame was A.L., Absolute, Benny Blanco, and I, we were just about surprising katz. Personally I think we were the best combination of south and Central Americans put together…
What's your view on the current state of the quantification of hip-hop, that is, the labelling of "mainstream", "underground", "abstract/experimental", etc. types of hip-hop?
It's all hip-hop and it's been like that since '79. There is a lot of garbage on both sides of the spectrum…with a few that shine.
How did you come up with the name Jedi Son of Spock?
I was always the young kat on the mic. Jedi just stuck, super-producer Kenny D saw the Vulcan in me and came up with SOS.
What are your favorite albums and songs, of all time?
'93 till Infinity, Do you Want More, Follow the Leader, Illmatic, Extinction Agenda, Adventures of Slick Rick, The Low End Theory, etc.
What does the future hold for you both musically and in life?
The future is mine… We put together some crazy basey hip-hop skater katz would love its called Korageous Katz, made up of Godfather Don, Scaramanga, A-Butta and a few more are on that, also I'm doing a lot of work with Van Drago on some Goth hip hop… (Note: The Korageous Katz single is produced by Kenny Diaz and has not yet been released).
I would probably have a young Vulcan when I'm about thirty so I got a minute to explore….
Jedi Son of Spock – Spitmode (b-side of "The Journey" 12″, Headbop, 1998)
Jedi & A.L. – Freestyle
Written by Keir Johnson , a new contributor to A Tribute To Ignorance.
19 Comments so far
Leave a comment
Leave a comment
Line and paragraph breaks automatic, e-mail address never displayed, HTML allowed:
<a href="" title=""> <abbr title=""> <acronym title=""> <b> <blockquote cite=""> <cite> <code> <del datetime=""> <em> <i> <q cite=""> <s> <strike> <strong>