Sean Price – "Monkey Barz" Review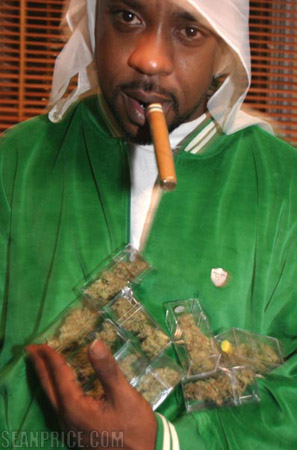 The mere fact that Sean Price has gone from being "the other guy in Heltah Skelter" to a soloist with a nice underground buzz is a testament to how much work he's been putting in for the last couple of years. Appearences on records by Black Moon, Jedi Mind Tricks and The High & Mighty, in addition to his Donkey Sean Jr. CD, have ensured that more than just diehard Boot Camp fans have been checking for the official "dolo" debut from the "ODB of the BCC".
The intro track, "Peep My Words", promises "ignorance at it's finest". This is a good sign. It's immediately apparent that Sean P is a far more entertaining MC than he was during the old Ruckness Monsta days, and while nothing on this album hits the musical heights of Beatminerz classics like "Undastand", in terms of vocal performance and content I'd prefer the 2005 incarnation any day of the week. With lines like "gangsta rappers can't fight so they rap about guns" and song titles that include "Brokest Rapper You Know" and "I Love You (Bitch)" (the dopest love song since Biggie's "Me and My Bitch"), you know that this isn't your standard bullshit. Verbally, Price ranges from being brutally honest to hilariously self-depreciating to just plain ill, often within the same song. No one out there is really messing with the sick sense of humour that is displayed throughout Monkey Barz (Duck Down), which makes it more than worth the price of admission.
While it's all good news in the booth, beats are usually the main stumbling block for indy albums these days, and while this album contains more hits than misses in the production department, there are still a few shitty tracks to be found here. 9th "Fruity" Wonder and his buddy from The Away Team, Khrysis, continue to bring their trademark lush soul loops, while P.F. Cuttin' and Ayatollah also submit quality work, but some of the lesser-known boardsmiths turn in some forgettable efforts.
Despite this, the fact that I'm even bothering to listen to a Boot Camp release ten years after the rest of the world stopped checking for them is an achievement in itself. Add to this the fact that P really kills it on a lot of these songs, and you've got the suprise hit of the season. It sure beats listening to that new Common album.
False Beef Alert: I'm pretty certain that the threatening reference to Curious George has no connection to the the Constipated Monkey (aka "The Magician"), instead staying in line with the whole cartoon monkey theme displayed on the dope Planet of the Apes inspired cover illustration. But most of you would have figured that out for yourselves anyway.
Review copy supplied courtesy of Shogun Distribution.
14 Comments so far
Leave a comment
Leave a comment
Line and paragraph breaks automatic, e-mail address never displayed, HTML allowed:
<a href="" title=""> <abbr title=""> <acronym title=""> <b> <blockquote cite=""> <cite> <code> <del datetime=""> <em> <i> <q cite=""> <s> <strike> <strong>