The Hitman Double J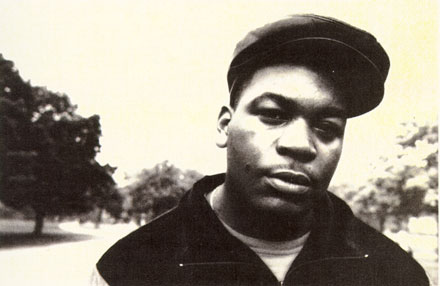 One of the early members of the Flavor Unit, Double J doesn't feature on much of their output other than his spot on "The Flavor Unit Assination Squad" and a couple of 12″s. He mentions how it all started in an old Hip Hop Connection piece:
"We used to do block parties in Jersey City where I was born and raised. Me, Latee and Zeke met up with DJ Mark in 1988 and he introduced us to this other rapper named Apache and the rest of the Flavor Unit."
He also explains how he got his deal with Island Records on the strength of his appearence in a homemade video of the crew that Fab Five Freddy had shot.
His first major single with the 45 King, "Bless The Funk", wasn't really all that due to it's uptempo club feel. The joint you really need is the hard to find "Cannibal Town/Def Style" (Chanpen). By the time he cut his album though, DJ Mark was either busy doing other stuff or was charging more than 4th & Broadway could afford (there is no way in hell that the 4-5 would have let them remake "Funky Town"!). Other than Louie Louie's sole contribution, the beats are all done in-house by J and his mans CraigaSki, who get the job done in unspectacular fashion with the exception of the killer "Double J'z Tantrum". The entire Hitman album sounds like it was released two years too late, with all the trademarks of a typical 1989 release – two songs are straight James Brown loops (while another uses the obligitory "Funky Drummer" break), "Let's Make Love" is the standard cheesy ballad, while "If it Ain't A Caddy" fills the "song about cars" quota. The only thing missing is a hip-house excursion.
Double J reappeared a couple of years later as half of the Maniac Mob, wisely letting the 45 King resume production duties on several of his independent compilations (including "Rock The Rhythm" from the Brainstorm EP), and later on a song for the D&D Project. They can also be heard on the King's recent Cat Jams album.
Double J – Double J'z Tantrum [The Hitman, 4th & Broadway, 1991]
"Brian Beck" Bonus: Double J – Girl From Wisconsin [The Hitman, 4th & Broadway, 1991]
13 Comments so far
Leave a comment
Leave a comment
Line and paragraph breaks automatic, e-mail address never displayed, HTML allowed:
<a href="" title=""> <abbr title=""> <acronym title=""> <b> <blockquote cite=""> <cite> <code> <del datetime=""> <em> <i> <q cite=""> <s> <strike> <strong>