Big Men On Campus: John Belushi Vs Biggie Smalls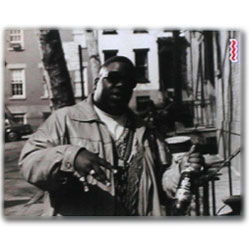 Two fatties at the height of their respective powers were taken from this small planet in the month of March – one, a waffle-guzzling comedian with an appetite for destruction. The other – the brother of the guy from K-9. Ten and twenty-five years ago, respectively, these two hedonistic maniacs checked-out, leaving gigantic shoes that have yet to be filled. But who was the most brolic of these two foodaholics? Here's a super-scientifical breakdown:
Sex
It's pretty well established that the Black Frank White was one fugly sonnovabitch, and that fact that he was constantly able to bang all types of fine broads every other day is a testament to his strong pimp game, while John B died at the hands of some skank who was best known as being a sloppy second of The Band.
Biggie: 5
Belushi: -1
Drugs
While any old douche can sling drugs (admittedly some with more success than others), it takes a real stand-up guy to actually do a whole gang of coke every night.
Biggie: 0
Belushi: 1
Rock 'N Roll
Belushi was an original Blues Brother. B.I.G. had some songs produced by Digga of the Bluez Brothers.
Biggie: 0
Belushi: 1
Booze
As Bluto in Animal House, Bulushi laid-down the blueprint for college party animals to get blotto, while Biggie made champagne popular with young folks.
Biggie: -1
Belushi: 1
Gear
Brooklyn's finest made garish colorful Italian shit acceptable, while SNL's favorite son brought toga's and "College" sweatshirt's to the mainstream.
Biggie: 0
Belushi: 0
Freestyle Skills
A no-brainer huh? Guess you never witnessed the improvisational abilities of "Joliet" Jake Blues on the ad-libs.
Biggie: 2
Belushi: 1
Weed Carriers
Both of these flabby fellas were charismatic enough to recruit lifetime weed holders. Dan Akroyd continues to hold a bag for his on-screen brother, while Jnr. Mafia and Lil' Kim continue to make headlines for all the wrong reasons.
Biggie: 1
Belushi: 1
Stans
While B.I.G has had a few notable wannabe's over the years (Shyne, Guerilla Black, Jay-Z), nothing compares to fatman Chris Farley, who was noted by Wikipedia as having also "started out in Second City, moved on to Saturday Night Live, appeared only once more after he left the show, and in the end he died from the same reason, at the same age". Friggin' awesome.
Biggie: 2
Belushi: 5
Crew
Biggie smoked weed with Tupac. John Belushi did coke with De Niro.
Biggie: 1
Belushi: 5
Cause of Death
An injection of hot lead or a speedball? I know which one I'd pick.
Biggie: 1
Belushi: 1
Bluto catches wreck:
Biggie catches wreck:
Final Scores:
While the GOAT of rap chalks-up a respectable eleven points, Belushi takes the cake with fifteen. Guess that zit skit got him over the line.
24 Comments so far
Leave a comment
Leave a comment
Line and paragraph breaks automatic, e-mail address never displayed, HTML allowed:
<a href="" title=""> <abbr title=""> <acronym title=""> <b> <blockquote cite=""> <cite> <code> <del datetime=""> <em> <i> <q cite=""> <s> <strike> <strong>