CMW – Vinyl Special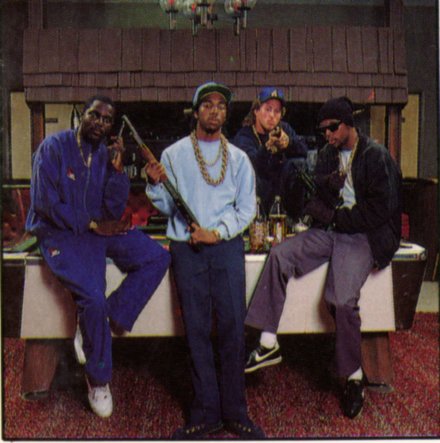 Anyone who's been reading Unkut Dot Com for a while will have noticed that New York rap gets a pretty much exclusive coverage. That's not to say that I don't appreciate any hip-hop made outside of the Tri-state area though. A lot of great stuff was produced in LA pre-Chronic, while early to mid Rap-A-Lot is also classic material – basically, anything made before the "keyboard/live funk" era of beat-making. Since Unkut Dot Com is essentially "A Tribute To Ignorance", now seems as good a time as any to change gears and focus some attention on some epic ignorant rap.

I've had a Compton's Most Wanted post in mind for a while, but it was this mix that reminded me that it was time to give this some shine. When It's A Compton Thang hit the stores in 1990, it initially seemed like just another addition to the ever-growing collection of novelty acts attempting to cash-in on the NWA/Compton hype. Turns out it was actually full of dope breaks and tough talk, which is pretty much my recipe for the perfect rap album.
One of the rawest tracks was "Rhymes Too Funky Pt. 1 (Live At Lonzo's 1988)", which I later found in it's complete mix on an album called The Compton Compilation – worth grabbing out of the dollar bin for the cover alone. If you're a fan of shotguns, Jerricurls, beepers worn as fashion accessories or 40's of Olde E, this is for you. CMW's DJ Slip produced the whole album, but Eiht and them only appear on the one track. But what a song! Nothing beats no-frills LA rap that sounds like it was recorded on two turntables and a mic in someone's garage. It also rocks a bassline that would later be used by Lord Finesse on "Kickin' Flavor Wit My Man", while "This IS Compton" their first single release on DJ Unknown's Techno-Hop, flipped a loop that would also be heard on the Funkyman's second disc ("Show Em How We Do Things"). Bugged, huh?
When the crew dropped their Orpheus album the following year, the label decided to release an alternative "radio-friendly" version of the LP, which dropped the anti-cop themed "One Time Gaffled Em Up" and replaced the gritty "Rhymes…" with the smoothed-out sounds of "We Made It", which was ever featured on the clean vinyl pressing of the album (my tape and CD copies of the album don't feature it). No prizes for guessing the subject matter, but it's noteworthy due to The Chill MC performing the most positive lyrics ever heard on a CMW project.
Some local broads get their chance to respond to "Give It Up" on the b-side only "Whose Is It? Give It Up! (Pt. 2)", and manage to piss-off Eiht in the process, who gets in the last word on the outro shout-outs. He can also be seen proudly sporting a classic "brick" cell phone on the cover of the twelve inch.
CMW feat. Old Man Conway – "Rhymes Too Funky (full version)"
CMW – "We Made It"
CMW feat. Foxy Fox and Broadway The MC – "Whose Is It? Give It Up1! Pt.2"
CMW – "This Is Compton" video:
23 Comments so far
Leave a comment
Leave a comment
Line and paragraph breaks automatic, e-mail address never displayed, HTML allowed:
<a href="" title=""> <abbr title=""> <acronym title=""> <b> <blockquote cite=""> <cite> <code> <del datetime=""> <em> <i> <q cite=""> <s> <strike> <strong>