Rap Remakes 3 – Schoolly D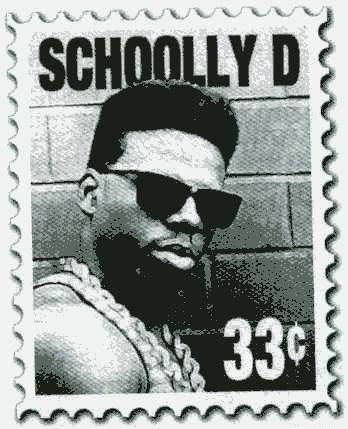 If you're looking to remake a classic single, you could do a lot worse than Schoolly D's "P.S.K." or "Gucci Time". It's fair to say that both songs are the epitome of drum machine rap – loud, abrasive and obnoxious in all the right ways.
Biggie's tribute was a welcome moment of grit during his super-slick Life After Death LP, while Prince Paul recruits "Skully B" to kick the ballistics about the joys of earning an honest crust. Danny Diablo, who apparently "has fronted the hardcore bands Crown of Thornz and Skarhead and is known for his heavily tattooed image and his Queens-bred thug lifestyle", is less successful in recreating the Park Side Killer anthem, despite the assistance of the Lords of Brooklyn. Schoolly also remade his classic for the 1996 Reservoir Dog album, recruiting Chuck D to perform his first verse.
"Gucci Time" was provided with a sequel on the Am I Black Enough For You? album, but despite T L.A.'s enthusiastic introduction, "Gucci Again" lacks the "speaker smashing" quality of the original. How do you mess up a modern remake of this shit? Get Jim Jones involved! The most offensive part of his version is those retarded keyboards parts over the top of the original beat.
Schoolly D – "P.S.K."
Prince Paul – "J.O.B."
Biggie Smalls – "B.I.G. Interlude"
Schoolly D feat. Chuck D – "P.S.K."
Danny Diablo feat. Lords of Brooklyn – "PSK (Remix)"
Schoolly D – "Gucci Time"
Schoolly D – "Gucci Again"
Jim Jones feat. Stack Bundles – "Lookin' At The Game"
17 Comments so far
Leave a comment
Leave a comment
Line and paragraph breaks automatic, e-mail address never displayed, HTML allowed:
<a href="" title=""> <abbr title=""> <acronym title=""> <b> <blockquote cite=""> <cite> <code> <del datetime=""> <em> <i> <q cite=""> <s> <strike> <strong>