The Unkut Guide To: Top Choice Clique
As the seeds of New York hip-hop began to spread in the mid-80's, nearby cities such as Philadelphia and Boston were quick to adapt their own unique take on the original recipe. While most people didn't have the Bean on their rap radar until they heard Ed OG's 'I've Got To Have It' (or former Mass. resident GURU from Gangstarr), groups like The Almighty RSO and TDS Mob were already crafting their own brand of hardcore rap, while the Boston Goes Def compilation was an early milestone for local talent. Top Choice Clique (consisting of lead MC Jawn P, MC/DJ Force and DJ Gemini) were an important part of this early movement. They were drawn together through a shared interest in the Lecco's Lemma radio show, as Force recalls, "I was in a group called Jambox Three, and I had met DJ Gemini. At that time there was another person who was in the original line-up of Top Choice – a beatbox by the name of Andy F. They knew Jawn P, and I guess they were feeling the way I dropped lyrics, and they told me about him and we got together and started vibing. Originally Top Choice Clique was meant to be like the Juice Crew from New York, kinda like a bunch of groups and MC's under one umbrella. I was a soloist, Jawn and Gemini were called Double Def, there was Andy F the beatbox and we had MC Ace, another MC. Somehow it just ended up coming down to just three of us."

Force was only thirteen at the time, while Jawn P was three years his senior and struggling to pay attention in class while he scribbled down his next rhyme in preparation for that afternoon's recording session on the 4-track. "Christmas was a big time for us", chimes in Jawn. "Because we would all get together and he would ask for the keyboard, I would ask for the microphones, Gemini would ask for the tape machine and we would put a make-shift studio together." The resulting tracks were then sold at school on tapes they dubbed themselves and submitted to the Lecco's Lemma radio show, where they began to build-up a solid following.
Also working the same crowds at the time were The Almighty RSO, who Jawn remembers more a little more fondly than anybody who used to work at The Source magazine. "I would say they were our Run-DMC. We were rivals, but we had respect for each other. They were the guys I saw when I was fifteen years old – I'll never forget, they came to the Malden projects and they played a show – and I remember all the toughest guys in Malden, they just shrunk-up and shit! That was the presence those dudes held. They set the bar as far as what they did early on with their career. I've nothing but respect for those dudes – they were much talented".
There was also the time that TCC shut down a Master Ace show. "It was hilarious", offers Jawn. "Well we didn't shut it down but he got pissed-off. Something happened where there was a crew – it might've actually been Ed OG and those dudes. They started taunting us during 'Peace of Mind'. I think it was Da B.U.L.L.D.O.G.S. Ed OG himself wasn't in attendance, but they started talkin' some shit and I stopped the music. I don't know what the fuck I did – I started whippin' some things around and I probably said something off the top of my head like, 'If you wanna step to the kings why don't you get on stage?' And before you know it there were like fifty dudes on stage and we were ready to battle everybody. Something happened and security came up, and half the crowd shuffled out – I don't know what the fuck I did. I remember being in the dressing room and shit, and I'm tryin' to figure out what the hell went on. It wasn't a big deal, but it was like a half riot or something. Then he [Ace] comes bustin' in and he's like bitchin' and moaning and shit, and he's like, 'What the fuck?' I'm like, 'Look, man – I don't know what the fuck just happened! Just go out and do your shit.' He went out and did like two songs and screwed. I never got to say sorry to the kid, but he was pretty pissy. The funny thing is, RSO was in attendance and they were giving us mad respect. They were like, 'That was fuckin' dope! That was real!'
When the Clique felt they were ready to graduate from Force's bedroom studio to something more professional, they discovered a studio called Waltz Audio advertised in a local music magazine. Owner Tom Waltz usually charged $8 an hour for use of his 8-track facilities, but TCC ran out of funds after only a couple of sessions. Luckily for them, owner Tom liked what he had heard and agreed to let them continue to record free of charge, offering to produce and press-up an EP. Even though they weren't really happy with the final result (such as the inclusion of a sappy ballad), 'The Powers In The Words' was a start nevertheless.
Top Choice Clique's big break came when Jawn got himself a part-time job at Skippy White's, which was the main spot to cop the latest New York rap records at the time. Jawn explains the unorthodox method he used to catch Skippy's ear: "I slid the tape on one time – of 'Peace of Mind', actually a four-track cassette – and I slid that on in between Big Daddy Kane and EPMD and before you knew it we had a line of people at the register, asking who it is and, 'Where could we buy it?' That's how I kinda conned him into putting it out. I said, 'I know these guys!' and all this shit, and finally I told him it was me. We decided to put it out". Their 'Peace of Mind' single was a catchy slice of sophisticated sampling backed with a strong message, and turned into a break-out local hit in 1990 after it's initial run of 200 cassettes and 1,000 vinyls. It was added to the playlist at local urban station WILD and got TCC nominated for a Boston Music Award. They even shot a Super 8 video for the track and were later recruited by a TV commercial for a local clothing spot named Coquette's Manhattan, who paid them in triple-fat goose-down jackets! More recently, 'Peace Of Wind' has had something of a revival after it was included on DJ Ivory's Hear No Evil Vol. 2 and 7L and Tall Matt's We Drink Old Gold mix CD's, resulting in bootleg re-pressings and $500+ Ebay auctions.
Although the buzz that the record generated would later pave the way for the group to sign a major deal with A&M in 1993, it turned out to be a move that they would later regret. While TCC just wanted to stick to the script and release their music to a larger audience, it seemed that A&M had other ideas about the group's image, style and sound. The deal only saw the release of the 'I Think To Myself' single and video from the Posse soundtrack, for when they completed a full album in 1995 it became tangled up in "red tape and industry politics" and eventually shelved after numerous disagreements with the label. This in turn sounded the death knell for the group, who soon parted ways, frustrated and disillusioned with the music business. Finally granted an official release through Brick Records last year (after meeting at mutual friend Esoteric's wedding), alongside a second CD of their earlier work from the 80's, Reel Chemistry proves to be an essential document in the development of the Boston hip-hop scene, and a reminder of what could have been for this talented Boston trio.
Where Are They Now?
Jawn P recently recorded material with Esoteric, including the hidden track on Reel Chemistry called 'Future Day Relic'. He is also Head Men's Basketball Coach at Wheelock College in Boston.
Force is now calling himself Forcefeeld. He earned a degree in Film Production at Boston University and continues to produce and record with his group Noble Knights.
DJ Gemini retired from the music game and has spent the past ten years working for ESPN.
Albums:
Reel Chemistry: The Anthology (Brick, 2008)
Singles:
The Powers In The Words EP (Waltz, 1988)
Peace Of Mind (Sample, 1990)
I Think To Myself (1993, A&M)
Push It Past Red (Colorblind, 1994)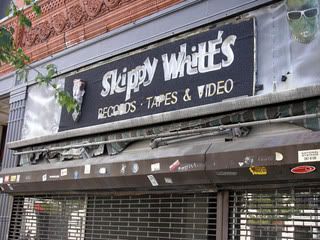 Top Choice Clique – 'I'll Do The Honors' (demo version)
Top Choice Clique – 'Reel Chemistry'
Top Choice Clique – 'On Air Show-And-Prove'
Top Choice Clique – 'Celebrity Status'
Jawn P feat. Esoteric – 'Future Day Relic'
13 Comments so far
Leave a comment
Leave a comment
Line and paragraph breaks automatic, e-mail address never displayed, HTML allowed:
<a href="" title=""> <abbr title=""> <acronym title=""> <b> <blockquote cite=""> <cite> <code> <del datetime=""> <em> <i> <q cite=""> <s> <strike> <strong>