Three Times Dope – Something For Your Bonkey
Original Stylin' stands as one of the great forgotten albums of it's era…actually forget that – it's not forgotten, but it's fair to say that EST was one of the most original and under-appreciated MC's of his day. Remember how they had a falling out with Steady B and Cool C after the first album? Turns it it was a very similar situation to what happened with Ice Cube and NWA – they figured out they were getting ripped-off by their manager and bounced whilst the rest of the Hilltop was turned against them. While Steady and the rest of 'em would later realize that 3-D were right all along, there was at least one report of a brawl between the crews at a local basketball court at the height of the feud.

After making a name for themselves as hardcore b-boys on their debut, 3-D fell victim to label pressure to get on some "punk smoove shit" for the second record, which still had it's moments (such as two tracks introducing the world to Larry Larr) but was far too slick for it's own good. The third album from the mid-90's sounded like typical mid-90's rap, with the standard shouted choruses, echoing horns and constant talk of "skillz", but was not without it's moments for long-time fans.
How many recent interviews have you read with EST recently? Jesse Serwer comes through again, also inform us that the ES has since penned hits for Destiny's Child and Britney Spears…
JS: Were the real Hilltop Hustlers were around then?

EST: They were '70s, '80s, dudes that had made a name. Just like Schoolly D had done with the Parkside area and a known group of dudes who used to permeate the area, the Parkside Killers. In the process of growing up in the hood and urban folklore we just ran with the name.

JS: Were they still active at the time you guys took the name?

EST: It was just a homage to them. Even with Steady B. being from there, the Three Times Dope faction was all North Philly-based. We just had blended and seemed to creatively work well with these dudes from West Philly. They were the ones giving a homage to the people they knew and held down their neighborhood before they got a chance to hold it down through music. It was a name people could reflect to, and it seemed like a good name to say where we was coming from at the time.

JS: You first came out first as "3-D" on the Hilltop Hustlers label. Tell me about that situation.

EST: That was Lawrence Goodman's label and, besides Steady B because he had a deal at that time with Jive, all the rest of us were on that label. It was a subsidiary of Pop Art and a more mainstream version of an urban rap label. Lawrence had been involved with cats from New York City—Marley Marl and all them—so he knew about the game and how to get records played. Luckily for us, our music spoke just as much for us as Lawrence Goodman's hustle did. And the hustle that we all put together collectively in championing each other's causes, every time somebody from the Hill put out a joint.

JS: How did those tracks on that first EP, "Crushin' & Bussin,'" come about?

EST: Chuck was the main producer for Three Times Dope. Sometimes me and Chuck would collaborate but he was the main one. He did his thing and lyrically and conceptually I did my thing, sometimes solo and sometimes along with Chuck. And then we'd consult with Wood. On occasion, we would all collectively have a group idea, or Chuck would come to me like, "I got this sample I want to let you hear it." The way he'd put it together would make me come with the rest of it. Chuck was real ill at being an introverted producer—somebody that could give you something from themselves and have it sampled in a way that was hot. Chuck had a sound.

JS: I'm looking at the record and it says produced by Lawrence Goodman and Steady B…

EST: Steady B produced "From Da Giddy Up," which was the record after that that caught wreck. He didn't produce "Crushin' & Bussin'" but they took credit for it. Steady was the head artist and he was also Lawrence's nephew. Basically they took advantage of the situation. Once we saw that we said, "Y'all didn't produce that." Lawrence would say, "I was executive producer on that, I paid for the session and I OK'd the record to be completed." He had last say on everything. I understand that role to be the executive producer. He was always trying to over-juice his worth. He was just a good talent scout, he knew how to put it together. And, if he'd have stayed to that grind, he'd of been a hell of a label head. Instead, he just allowed some brothers to come together, do something for a time and then the thing fell apart because homey wasn't about his business all the way. But he didn't produce nothing of ours. We even made a statement on the second album, once we had got our contractual stuff right with him, letting people know that even though this may state that he had something to do with the album, he in fact had nothing to do with the album. He was there while we were making the records but he wasn't making the records we was making. He heard us doing our thing and he would be like "ES, keep that tone, I like that." But we already had our thing tight. Executive producer? Yes. The guy that gave us our first chance to do what we did? Yes. But he wasn't integral as far as how our tracks were made, creatively.

JS: Where did you get your slang from—things like "Acknickulous" and "The Giddy Up"?

EST: That came from me and my man Larry Larr. We came up with "Acknickulous." Larry actually had the word inside a freestyle. I don't even know if he had it spelled the way I had it spelled it in the end but it was just something that struck my ear. I was heavily into English. I was an English major in high school so words was my playing field. I heard the word, I ran with the word. Expounded on it and actually gave it a definition. That's how we used to do in Hunting Park.

JS: Define Acknickulous…

EST: Acknickulous is the utopian state of being nice. That's the highest level of being nice for what you do.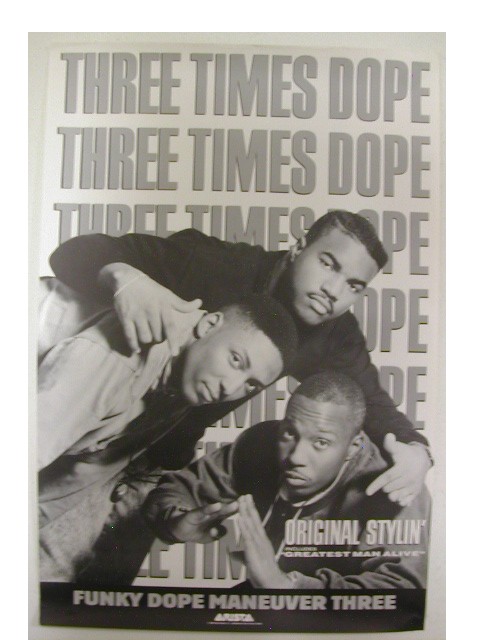 Some remixes and early tracks:
3-D – 'Crushin 'N Bussin"
3-D – 'On The Dope Side'
Three Times Dope – 'Improvin' Da Groovin" [Improved 'N' Extended]
Three Times Dope – 'Funky Dividends' [Goin' For Broke Remix]
Three Times Dope – 'No Words' [Remix]
Bonus: Three Times Dope – 'Joe Familiar'
14 Comments so far
Leave a comment
Leave a comment
Line and paragraph breaks automatic, e-mail address never displayed, HTML allowed:
<a href="" title=""> <abbr title=""> <acronym title=""> <b> <blockquote cite=""> <cite> <code> <del datetime=""> <em> <i> <q cite=""> <s> <strike> <strong>