Non-Rapper Dude Series: Combat Jack – Part 2
Following on from Part 1, Combat Jack details some more tales from the front-line and discusses life after the music biz.
Robbie: How did you find most of your clients?
Combat Jack: The attorney I was working for, she let me build a hip-hop practice, 'cos she saw the potential in me. I worked with this dude Bernard Bell – who is Regina Bell's brother – and a lot of people don't know him, unless you were in the industry, but this dude was a powerful songwriter/producer. He did a lot of shit with Guy, and he did that 'Remember The Time' song with Teddy Riley for Michael Jackson. Those were the types of deals I was working on as well. We were representing Color Me Badd, and they had this big-ass label deal. Do you remember this group Joe Public? I worked on a lotta R&B shit, and fell into the hip-hop shit 'cos that's what I was really looking for. My hustle was I was that 'hip-hop dude', so once somebody worked with me – if they knew an artist or a producer who was looking for an attorney, nine times out of ten my name came up first, man. I would get a million calls, and it was really just about working with anybody who had anything credible on the table. It was word-of-mouth, man. The bigger my clientele became, the more clients came through my door. A lotta people don't know that I represented Smoothe Da Hustler and Trigga Tha Gambler. I did the whole D.V. Alias Kryst deal back in the day. I did the CNN, I did a lot of underground shit. Once again, it was cats comin' my way, man. I represented Ced Gee…I worked with a lot of people. I can't even remember all the deals I did. It's not until I see somebody pop-up, like that chick Antonique Smith who played Faith in the recent Notorious movie. I used ti represent Antonique ten years ago when she was an R&B artist signed to Latifah's Flavor Unit. I also represented the chick that played Lil' Kim in the movie! Naturi Naughton, because I represented 3LW, and she was in that group. It was about hustling and being that person to go to.

What was the deal with certain people only wanting to work with Jewish lawyers?
One of the things that I hated about the industry is it's really hard to maintain clients – particularly when they blow-up. Once they blow-up, some of them are looking at you like a nickel and dime attorney, because I'm Black, they can talk to me, they know me – but now that they've blown-up, they've got the attention of all the major Jewish attorneys. When somebody can say, 'Yeah, I've represented Madonna and Michael Jackson. Do you wanna be in the circle?' One thing the industry does not breed is loyalty. So motherfuckers is lookin' at me like I'm liver now! One of the cats that I used to hate that used to do that shit a lot – as far as steering from you – is Chris Lighty. Chris Lighty was notorious for that. Whenever I had a client that started to blow-up and they started talking about how they were gonna start getting managed by Chris Lighty, I was like, 'Yo!' Most Black attorneys were like,' That shit was the kiss of death!' Nine times out of ten, the next day you wake-up and you're client was gone! Fred Davis was Clive Davis' son, and if you're Clive Davis' son then people are gonna look at you like you're ice is colder than somebody else's anyway. Fred Davis came in, and he was known as a poaching motherfucker. As much as a big name as he had, he would poach your client in an instant! And one of the cats he worked with that would steer clients his way was Chris Lighty. I hated that shit, man. You had to fucking be able to walk on water to keep a client from leaving you once they blew-up. And I'm talking about clients that you worked with five, six, seven, eight, nine years, man! The industry is about, 'Who can do the best shit for me now! Not what you did for me yesterday'.
Why do so many artists get signed but never get to release their record?
You've gotta deal with the politics and really just what kind of hustle and fortune you have. Maybe you have an A&R that would sign you and they really feel your project, and there's a really huge runway of artists on that label, so if you're behind LL or Patti LaBelle or Mariah Carey or whatever is the big artist they really have to plan when you're launch date is gonna be. What if you're A&R, the guy that signed you and vouched for you, what if he gets fired? Or what if you get signed and you realize in the studio that you're wack? That happens a lot, man! You sign artists that could spit, or they had a dope demo, and then they fuckin' go in the studio and you're like, 'What are you doing?!' One of the artists that I represented was Supernatural. That motherfucker will put fires to a freestyle – sleeping! Put that motherfucker in the studio, man…I got a lotta respect for Supernatural, but I did his deal at Elektra, and him and Dinji Brown – who was the producer – and they played me that album and I was like, 'Yo…what is this? God bless you, maybe I'm not getting it because I know how talented you are, but dude…' Like back in the day I represented The Juggaknots, but they weren't making records like 'Clear Blue Skies' back then, so they got shelved…it's kinda like luck of the draw, also. I still say to this day that Jay-Z is one record away from being an underground, obscure artist if it wasn't for that Foxy Brown. It's a matter of chance and hustle – the dude worked his craft, the dude perfected his craft – nothin' away from Jay-Z. He also happened to link up with Damon and then that fuckin' 'Ain't No Nigga' song with Foxy Brown…that shit was a monster! When I listen to Smoothe The Hustler's album, that album was very similar in tone to Reasonable Doubt. New York was on some serious shit – New York cats unfortunately weren't selling, neither, 'cos the technique was so deep and heavy and commercial America wasn't buying that shit! For example I did AZ' deal right off Illmatic. God bless the dude, but he was not able to deliver something on the level that people were expecting him to, which was really something on the level of Illmatic. It's really a law of averages. I've found that the longer you've been in the industry. The reason why Jay-Z remains on top right now is that dude put at least ten years in the game before he even popped. Cam'Ron has been around for a long fuckin' time – beneath the surface, he's gotta know what the fuck is goin' on! I've been in the studio with him, his work ethic is crazy. When he dropped the whole Dipset shit, that wasn't my thing but I'm lookin' back now, I'm like, 'Yo, dude saw a void and he put that shit together'.
Has anybody looked at you sideways over anything you've posted?
One cat who I was really tight with – and I was really trying to bring him back into the public light – kinda didn't appreciate it and I had to cut-off one person that I've really been through the trenches with. Other than that, people that I ran with from back in the day, people that I meet today, everybody's cool with my shit. They know that I'm telling the truth, man. For the cats that can't take the truth? Fuck 'em. I'm not trying to hurt anybody. In almost every story that I write, I edit that shit and re-edit and re-edit to make sure that I'm not throwing shit on anybody that doesn't deserve to be shitted on.
Did you ever try to break into the video game industry?
I'm glad you asked that. I worked at the Electronic Software Ratings Board from 2003 to 2005. It was a part-time gig – I would go in there and give video games their ratings. It didn't pay much, but I got to review games before they came out so I would say that the highlight of my working at the ESRB was reviewing GTA3: San Andreas before it came out. I'm kinda mad at Rockstar because I gave that game the 'Mature' rating and to find out that they pulled one on us with that 'Hot Coffee' thing? I'm like, 'Yo, man. Fuck you!' I appreciate the game and I liked that scene, but I was like the fuckin' customs inspector – and they got that shit past customs! [laughs] Right after shit that I started working at MTV and…legally I'm not allowed to say much. It did work out in the end, but it wasn't gonna last, man. It was around that time also that I published my book ['Bling']. That was a blast, that was really what gave me a lot of confidence as far as my writing. While I was writing my book and I was guesting on Byron, I was like, I think I can write, man!' And that led me into really taking my writing a lot more serious. I haven't felt this passionate about the music game in a long time – it's a whole new movement. I'm putting so much in to the blogging thing right now because that's where I see the next couple of steps of my future lie.
Do you plan on writing another book? Maybe your memoirs?
Yeah, I'm definitely ready for that, I think that's what I'm built for right now, is really doing my memoirs or somebody else's memoirs. As a matter of fact, there's a possibility of me doing somebody's biography – a known person.
Is it Tragedy by any chance?
Nah, but peace-out to Tragedy, he's going through a lot of shit. Tragedy was one of my closest, best clients. I learned a lot from him, he learnt a lot from me, man. We made money together. Dude taught me a lot about life and about myself, man. Tragedy is a real soldier – one of the best to ever do it. I didn't like the way he ended-up getting into some beef with Noreaga, because I saw what he put into their career. Funny shit is Trag – when he was about to get CNN signed – dude was thinking of all types of ways to market CNN, so what he did was make these handmade – they looked really authentic – he made these 'Wanted' posters. It had Capone and Noreaga on it, and I guess he was offering like a million dollars and shit like that. It was like, 'These guys are killers!', shit was like some real-ass Wanted posters! He was up in Queensbridge in the subway station, posting them shit's up. A couple of days after he posted them up he was in the subway station and he sees some QB kids – and you know QB got some killers, man – looking at one of the ads like, 'Yo! These motherfuckers? When we see these motherfuckers, we gonna body these motherfuckers and get that money!' Trag said the minute they said that shit he spent the next couple of days taking every fuckin' poster down! He was like,' Word?!' It showed Capone-N-Noreaga mug-shotted out. Props to that dude for that shit! That was a marketing campaign that was too convincing! [laughs]
The funniest shit was I used to represent Nasheim Myrick, who produced 'Who Shot Ya', and Nasheim ran with a crew that had beef with Tragedy's Queensbridge crew. Both factions were on some party boat ride and the shit got hectic, and somebody from Trag or Naheims crew got thrown off the boat, they was bangin' so hard! That's how serious it was! Like a fuckin' commercial boat, man! You're falling three or four stories before you hit the water. What was cool about it though, was that when cats would meet in our office – like Tragedy was a street dude and Nasheim was a street dude – but they were also business dudes, so when they would meet and figure out they had the same attorney they be like, 'You know what? That street shit – getting' thrown-off a boat shit – that shit is cute but both of us are in here trying to make some money! Yo Nasheim, can you produce some tracks for me?' And Nasheim was like, 'Yo, CNN is dope! I got you!' They crafted that 'T.O.N.Y.' record right out of my office.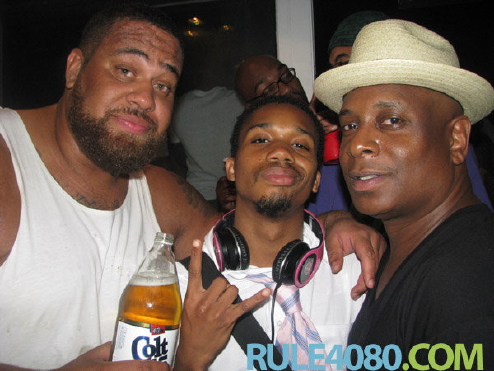 Read Combat Jack at hie blog, Daily Mathematics.
8 Comments so far
Leave a comment
Leave a comment
Line and paragraph breaks automatic, e-mail address never displayed, HTML allowed:
<a href="" title=""> <abbr title=""> <acronym title=""> <b> <blockquote cite=""> <cite> <code> <del datetime=""> <em> <i> <q cite=""> <s> <strike> <strong>