Killa Sha – The Unkut Interview

Photo courtesy Alexander Richter
Killa Sha created the best rap album of 2007, but thanks to limited distribution and an absence of gimmicks, not enough people experienced his addictive GOD Walks on Water the first time around. With a follow-up titled The Shepard due in the near future, as well as a complete album with Large Professor in the works, there'll be plenty of opportunity to catch Sha Lumi in action.
Robbie: I didn't realize how long you've been in the game initially.
Killa Sha: When it's time to come out and breathe, I come out and breathe…I been in the game for a long time… when like the Juice Crew started! It's just crazy that I kinda waited until now to put out a project, but I'm glad that I did wait, 'cos I got to see the ups and the downs of things.
You were also a member of Super Kids with Tragedy?
You know when you little and you're just venting into things? That's what Super Kids is about, basically. It wasn't no official group, the three of us…it was another DJ that was with us called Chilly Q, which was one of the first younger DJ's that was on the radio, on WBLS. It was basically just people being young, just venting, trying to do different things.

Did you record any demos at Marley's?
At that time I wasn't really into the rappin' thing. I was running around in the streets, crazy. Tragedy was more like a rapper – him and Craig G. I was just running around, riding the bandwagon, basically.
How old were you at this stage?
I was about eleven.
You also used to DJ?
Yeah. On my DJ come-up days I used to listen to Ron G, Doo Wop, Kid Capri, so I kinda like mimicked them, and then when people used to say, 'Oh, he's a DJ!' I started getting house parties and things like that. After that, we started touching in different arenas. I was the first DJ for Mobb Deep, which was Poetical Prophets. 'Cop Hell', 'Juvenile Hell'. Actually, I did the cuts on 'Flavor For The Non-Believes'. It was just growing-up in the hood – everybody knew each other. I knew Havoc, we used to go to school together. So before he was Havoc, he was Kejuan to me! Just like before Tragedy was Tragedy he was Percy to me – that was my homeboy. That's how everything started. With Killa Kids – that's a little bit more down the line – but we got Baby Sham from Flipmode, he's an intricate member of that. We got two other people that worked with Ron Artest – Mr. Chalice and Mr. Ruck – with Tru Warier [Records]. Everybody was cool before the rhyming stuff, before the entertainment and stuff we was all boys. That's how Killa Kids came together. Just like with me and Trag or me and Mobb Deep – we was all friends before the music started.
So what did you release as Killa Kids?
We had two songs that came out on vinyl, but everything else was, you know, air it up and gear towards the album. A lotta people wasn't really trying to risk they money on us, so we just started leaking stuff out to the computers, to the internet heads, to the local DJ's, mixtape DJ's. That's how we got our notoriety, by just putting it in your face, 'Here! Killa Kids!'
Were you doing shows?
We wasn't really big but we did a couple of little spots with Busta, we did a couple of little spots with Capone-N -Noreaga. Every little place where we could hop-up and be seen? That's what we did. I was the oldest outta the Killa Kids. The age range was from sixteen to twenty. We didn't have nobody over 21, and the youngest was fifteen at the time. I was in charge of the production side of things, and we had a manager named Tyrell Davis, he handled the business aspect of things.
Did you shop a demo to any labels?
We had a nice little buzz in the streets, but the industry wasn't ready to take-on…'cos the name was still kinda crazy – people wasn't ready to put money behind 'Killa Kids'. Our closet deal was Mercury Records, when they was doin' Blahzay Blah[zay]' and Gemini The Gifted One…around that era. That was our closest situation to a record deal, but we was always cool with the DJ's. Like Hot 97 with Marley – we always stayed on with Marley 'cos I worked with Marley a little bit – so he would always play our records. Him and Stretch Armstrong. That's what really kept us relevant.
Were you Prince A.D. back then?
Yessir. That was my first DJ name. I used to make mixtapes, blend tapes and things for the hood. Basically that's what they would call me – DJ Prince AD. I kinda kept with that until I started messing with Tragedy and them on the real making records with Imam THUG and Capone-N-Noreaga, Final Chapter and things like that. That's when I switched my name to Killa Sha.
What did the 'AD' stand for?
My name is Adam, so 'AD' wass short for Adam, and Prince because I look at my father as being a king, so 'Prince AD'.
What about Sha Lumi?
That became from listening to DJ Clue tapes when he used to make the Clueminati tapes. So I took time out, I read up on Illuminati thing, like what it was about. As for myself, I don't really follow that, but their principal of being number one is what I follow, so I always took that Sha Luminati as being I control my own destiny and I wanna be number one. That's how my name was brought together.
How long did you work with Mobb Deep?
At that time everybody was tryin' to find they own self. That's when I started Killa Kids, was when they really hit they pinnacle and they went to Loud/RCA and they was messing with Wu-Tang and everybody. I seen they was doin' what they had to do – I had to do what I was doin' a little bit. My train kinda took a detour but at the end of the day, I look at them now and I look at me and I'm kinda feelin' alright, 'cos y'all owe a lotta money and right now I don't really owe that much money! So I'm feelin' good.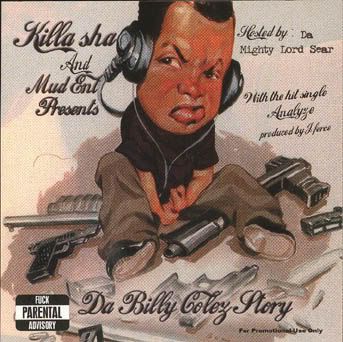 Was Tragedy's Against All Odds your first big break?
That was the first time I was really, really getting noticed by the masses and the majority for my lyrical content. The first big record I was ever on is called 'WWT', with me, Cam, RZA and Tragedy. That was the first big record I was really on that really had people like, 'Oh, who is this?' Then I was on another record with Canibus and – R.I.P – Big Pun that was on Tragedy's album also. That's what really sparked me when started really noticing people's really paying attention to me.
Did you learn a lot from working with Trag?
A lot that I did learn about the business was through Tragedy. The cut-throat stuff, all the under the table stuff that you really supposed to know that a lot of people don't know? I learnt that under him and Stretch Armstrong, 'cos him and Stretch Armstrong started 25 Ta Life Entertainment, and I used to work on Hot 97 with Stretch Armstrong. A lotta jewels that was goin' on – I ain't talk a lot, but I listened a lot – so I learnt a great deal from them two. This was the Xtra Large Radio Show, that was like '98 to 2001.
What's up with the Mud Brothers?
That was another group I kinda put together. I'm not a part of them anymore. I used to be the head of that but I had a lot of things on my table, so I really couldn't concentrate on everything. That's my peoples Foul Monday and Starving Brando.
Was The Black Eminem your first solo release?
That was my first endeavor of me ever letting anybody hear me by myself. I've always been on records with different people, been on features, rhymed with different people, but I never had a project of just me (by tim tousson). That was 28 songs of me just rhymin', putting out what I felt was good at that time. After that was The Billy Colez Story, with the little baby sittin' on the guns.
What about 'Night Shiftin' which you did with Marley Marl?
Me and Marley were supposed to have an album together, but the business wasn't straight. I learnt a lot dealing with certain individuals that went down that road with Marley earlier, so that was my like, 'Yo! Hold on, take care of your business first'. I actually got a album sitting up there with Marley, but due to the craziness about it, we had to let that one go, like, 'Go ahead'.
How did 'Come On' get made?
We was in a Cormega session and Lil' Fame was there and a couple of other rappers. So Pro played the beat for them and I kinda liked the beat, everybody was vibing to the beat so I kinda pulled him to the side and was like, 'Yo son, I need that!' So he was like, 'Yo, I got you!'
You mention on a few songs that you like big broads and all that kinda shit. What exactly do you mean? A little extra or real big?
200, 250…yeah, that's my preference.
You recorded a track with K.L. from Screwball on their first album. That was messed-up when he passed.
He was one of the first people that ever took me to a record label and got me a check for rhyming. That was my homey. That was my ace boom coon. That was a real hurting thing, 'cos he took time out with me. It's only a couple of people that ever really… I'm from Queensbridge and we have a lotta talent out here, but there's only a handful that I can say took time out with me. He was one of them, Cormega's one of them, and Tragedy Khadafi.

Killa Sha – 'Air'

Killa Sha – 'Nightshiftin'

Killa Sha – 'Stand and Cheer'

Killa Sha – 'RIP Remix'

Killa Kids – 'Lyrical Flava'

The Outdoorsmen – 'Bring Da Rukus'
24 Comments so far
Leave a comment
Leave a comment
Line and paragraph breaks automatic, e-mail address never displayed, HTML allowed:
<a href="" title=""> <abbr title=""> <acronym title=""> <b> <blockquote cite=""> <cite> <code> <del datetime=""> <em> <i> <q cite=""> <s> <strike> <strong>