Round 1: What Is Show's Greatest Beat?
Wednesday June 02nd 2010,
Filed under:
Bronx Bombers
,
Crates
,
Face Off
,
Features
,
Feedback
,
In Search Of...
,
Not Your Average
,
Speaker Smashers
,
Steady Bootleggin'
,
Vote Or Die
Written by:
Robbie Ettelson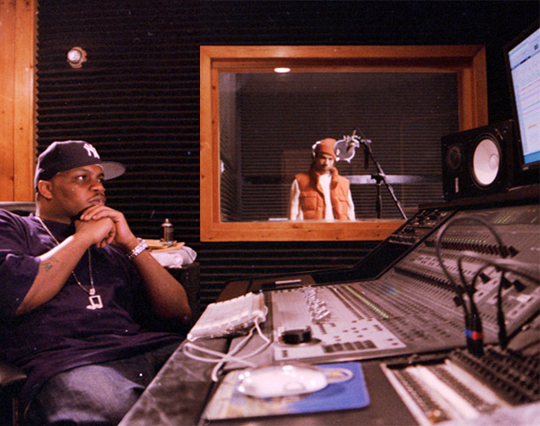 Mistakes were made in the last 'Search For The Best Beat' feature…namely, Alchemist has too may cot damn tracks! This time I've selected a producer who is a little more restrained in terms of his musical output, but still a beast on the beat – the Bronx Bomber himself, Show. While his early work featured a signature sound that was easily identifiable, Show's style developed into a tighter, more refined minimalism by the time Goodfellas was released. While the majority of his work has been with his Diggin' In The Crates crew and Wildlife, he's contributed tracks for a select few over the years. The first round is dedicated to production outside of his immediate D.I.T.C. circle. Hopefully we can get this one sorted out in three round this time.


Maestro Fresh Wes feat. Showbiz – 'Fine Tune Da Mic'

Artifacts – 'The Ultimate' [Showbiz Remix]'

KRS-One – 'Sound of Da Police'

Scaramanga – 'Mind IC Mine'

Molecules – 'Revenge'

Sadat X – 'Stages & Lights'

Organized Konfusion – 'Confrontations'

Joell Ortiz – 'Brooklyn Bullshit'

Freestyle Professors – 'Down With The Freestyle Professors'

Smiley The Ghetto Child – 'Bronx Baby'
Loading ...
52 Comments so far
Leave a comment
Leave a comment
Line and paragraph breaks automatic, e-mail address never displayed, HTML allowed:
<a href="" title=""> <abbr title=""> <acronym title=""> <b> <blockquote cite=""> <cite> <code> <del datetime=""> <em> <i> <q cite=""> <s> <strike> <strong>