Double J – The Unkut Interview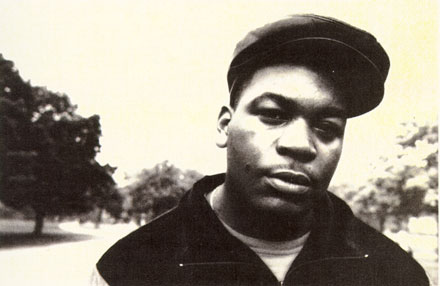 From his independent heater 'Cannibal Town', through to his The Hitman album and his work as a member of the Maniac Mob on The D&D Project, founding Flavor Unit soldier Double J has been doing his thing to rep Jersey City over the years without getting caught out by the music game.
Robbie: When did you start working with 45 King?
Double J: Meeting with Mark in '86, I hear everybody speaking of 'the basement', but when I started out we were in the attic in East Orange. Everybody talking about the basement – they should know about the attic. Mark had the microphones screwed into the wall, like four mics lined up, and everybody used to come up there, rhymin'. We started to make so much noise he had to leave there. Then we went down to the basement where we continued making the noise. Before all of that, I was more into the street life rather than the music at that time. I wasn't really into writing rhymes and this and that, 'cos I had just had a kid, and I'm trying to raise a kid real early. When the music wasn't giving me no checks, I've still got to put milk on the table and pampers. So I had to keep living the street life and rhyme every chance I could. So when I met up with Mark and 'em we go and make tapes and everything – we just had a lot of fun and just rocked. We made a lotta video tapes of us passing the mic too. Me, Apache and Latee – we went to school together. Me and Latee was in the same 3rd grade class. At the beginning of the Flavor Unit, we'd be all in the basement and we was wondering what should we call it. Should we call it the 'Flavor Posse' because it was already the Juice Crew so we couldn't use the Flavor Crew. I think it was Lakim Shabazz that said, 'Let's call it the Flavor Unit', and ever since then that's what we rolled with. The word 'Flavor' was Latee from 'This Cut's Got Flavor', 'cos that was the first record outta the crew that was poppin' on the radio.

Coming from Jersey, was it tough to get respect from Brooklyn and the Bronx?
It wasn't like because they heard the records on the Red Alert show. That kinda let us in, and being that Mark was with us and he was originally from the Bronx and he knew Fab 5 Freddy and everybody, it was like, 'Yo, these are my kids and this is my family', and they embraced us. It was all love. We went to KRS-One 'My Philosphy' video, I'll never forget that. All of us was in there.
Did there used to be any problems between Ali Ba-Ski and Markey Fresh back then?
I'm shocked, 'cos we all got along. Markey Fresh come down and it's mad love. He'd come down – but he'd be doin' his own thing too. Markey Fresh was strange, but he was on his job! He was doin' his records and representing like he's supposed to, but he'd have things to do as well as me. So I guess he was doin' what I was doin' as well…
What can you tell me about 'Cannibal Town'? That was a great record.
That was around 1988. We did the record, came up with a couple of dollars and we went and paid for that record ourself – label and everything. Mark took me over to the pressing plant, showed me how to get the record pressed, how to make the labels up – 'cos he was already smart with all of that.
That was your own label?
Yes, Chanpen Records. That 's my aunt's name actually, 'cos she had put up the money for it. We pressed-up only 3,000 copies of that. Mark used to always be big on club records, he knew what club records 'sposed to sound like when they hittin' in the club. He had a hook-up with Abbey from Movin' Records in East Orange, and she used to sell a lot of club records to all the DJ's. Mark knew that was automatic sales for us, so he put a club record on there called 'Club Trax'. So even if they didn't like the record or whatever, here's a club joint just to see if it could grab a different side – and it worked, 'cos people still play the club record. I'm shocked.
So there was a big club scene in Jersey at the time?
Right. It wasn't no vocals on that track, 'cos we wasn't big on rhyming on it, but hey…we wanted to move the records at the same time. Mark understood all of us before we understood our self. Mark used to put on music and be like, 'Rhyme to it'. 'But I don't like that beat…' 'Nah, just rhyme to it'. He knew that that beat was hot and it's gonna you sound good! I didn't understand that 'till later, and I always used to wonder why he wanted me to rhyme to stuff I didn't wanna rhyme to. But he knew – and he didn't bother telling you either! If you didn't wanna rhyme on it? 'Fine'. [laughs] That's the bugged-out thing, he don't stress.
Did you get a good response to the record?
Yeah, it did so well that nowadays somebody white-labeled it! I remember whern Mark took me over to London with him and we did some shows, and somebody was like, 'Double J! I got your record!' My man went down in his crate and pulled out that record! I was trippin'. Out of those 3,000 copies, he had one of them over there in the UK!
What was the story with your record deal?
Fab 5 Freddy used to come over to the basement and video us sometime, and Fab 5 Freddy showed the video tape to Chris Blackwell from Island/4th & Broadway, and he said anybody on that tape that wasn't signed, he wanted to sign them. I was one on there that wasn't signed at the time, 'cos like I said I wasn't in there, rhymin' 100 everyday, trying to make it happen or nothing like that. So I got signed to 4th & Broadway and we did a single. We came out with 'Bless The Funk', and Mark had did that. Once again, he said, 'J, let's make something that can hit in the clubs'. I'm like, 'Aight. Being that you know this music thing better than me, let's go with it.' At the time, Mark was real busy doing tracks for everybody – Madonna, David Bowie and all these big artists, getting big money. It was time for me to submit some records and to my album, and Mark was kinda tied-up with what he was doing, and I was like, 'I don't want to step on your toes and stop you from your money, 'cos you gotta get that money'.
Craigaski had came to me, and I was just trippin' 'cos how I met him, he just put a cassette tape on my car. I guess he was scared to speak to me in person or whatever – he put a cassette on my car and said, 'If you like these beats, come to my house or whatever and check me out'. I just wanted to know 'Who's this crazy dude that left his tape on my car?' [laughs] So I went to his house and he came to the door with some glasses like Bootsy Collins and everything, and he's got these Christmas lights blingin' in the basement, and these beats banging'. So I go in there and I'm like, 'Yo, he kinda crazy! He interesting'. So me and Craigaski, we kinda hooked-up, being that he lived around the corner from me. From then on, we just clicked and we were hangin' out all the time. We just was doin' joints, and I wind-up going to Island Records and meeting Cookie Gonzales. He got other people at Island Records to listen to it and they said, 'Ay, you can rhyme', so they gave me an album deal. So we had to put these records together and give 'em an album. At the meantime, Mark was still doin' his thing. We was still in contact everyday, but we were doin' different things. Me and Mark still talk, I just got off the phone to him. That's my best friend.
Did you have a limited window to submit your album?
Yeah, my pockets said I had to do it right away! [laughs]
What can you tell me about 'If It Ain't A Caddy, It Ain't A Car'?
My father used to always say that. When Dukes of Hazzard was on, I used to be like, 'I wanna get a car like that! A Camaro!' I'm 6'4", and he's like, 'Boy, you don't want no shit like that! If it ain't a Caddy, it ain't a car!' He used to tell me, 'Nine times out of ten, your last ride on this earth gonna be in a Cadillac!' I was like, 'Damn!' He was gettin' deep on me. When you go to the cemetery, you don't see no Porsches or Benz's – they got you in the back of a Caddy!' I was growin' up, lovin' Caddy's. That's all I ever drove. I just did that song just to be a colorful with it I guess. The music was a little wildness, but it was Craigaski, so I went with it. Our styles were a little crazy, but it blended together.
What was the story with the album cover?
At the record company, they knew I had the Caddy and was always with my hat to the side and all of that, so they tried to make it marketable. By me not really knowing what's what and coming new to the game, I'm like, 'Alright, let's try it. We can do the hitman thing'. But I was thinking the hitman that's the sniper – not Al Capone with the tommy gun, I'm talking about the dude in the cut! And at the same making hit records in the studio, so that's how we get in the studio with the Al Capone thing mixed together. The hitman, in both ways. We had a video for 'Gangster Hit', which played on the local cable station they had here. You could call a video in for $2 and it plays in your area, and they used to burn the video out all day long on that thing.
Did 4th & Broadway want you do another record?
Island got bought out by Polygram at that time, and that was right when they were supposed to start doin' marketing for my project, but people got their jobs switched around and this one didn't know what this one left off doin', and this, that and the other. So now the person that was handling my project is not there anymore, 'cos Polygram got their people there. After a while, the lawyer said, 'Well, you can wait around for them to sort things out or you can move on and be released'. I was like, 'I gotta go', because the record was already late comin' out, and after a while the music starts to sound a little dated. It was time to put out another record to show some update or move on, and I moved on. After I moved on, I just never really started hunting in the music, 'cos I didn't have a manager or anything. I just went to business then. Now I'm just workin', raising kids. Now my son that was a baby then – he's 21 now. It would have been nice to go diamond – triple platinum or whatever – but I think sometime it's a blessing, man, to see how certain things turned out. I think sometimes you do just as good by almost making it. I'm doing fine now – I run my own business and I've got my own peace-of-mind. I see other people that 'made it', they have a lot of things but they don't have that real, genuine peace-of-mind. Sometimes you need that.

Double J – 'Cannibal Town'

Double J – 'If It Ain't A Caddy, It Ain't A Car'

Maniac Mob – 'Get Up'
21 Comments so far
Leave a comment
Leave a comment
Line and paragraph breaks automatic, e-mail address never displayed, HTML allowed:
<a href="" title=""> <abbr title=""> <acronym title=""> <b> <blockquote cite=""> <cite> <code> <del datetime=""> <em> <i> <q cite=""> <s> <strike> <strong>