Live Show Review: Mobb Deep At Best Buy Theater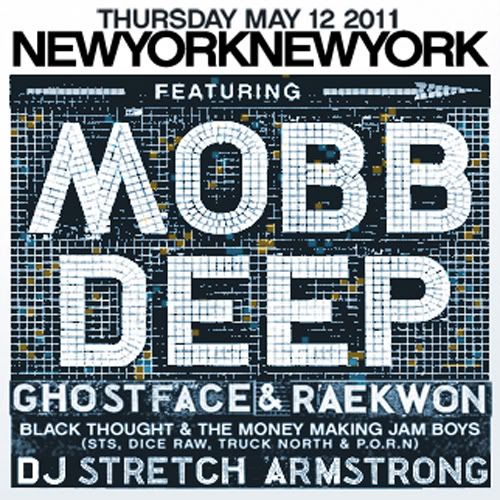 It was a big night for non-progressive rap fans in New York, with the first Mobb Deep show in over three years popping-off live and direct next to Times Square. Would Capone sneak in and attempt to hit Prodigy with a bar stool, Keith Murray style? Or would a live rendition of 'Shook Ones' lead to a number of drunken brawls in the crowd? The third, and most likely scenario of course, was that none of the above would happen and it would be a uneventful rap concert in the 'New' New York, where even the corniest white rap fan could dance around like a moron with no fear of getting smacked upside the head by a less happy-go-lucky audience member.

Once we got into the venue, we went backstage so that Combat Jack could do a quick interview with the Mobb for The Source site before they went on stage, so I took the opportunity to make a sandwich from the Kraft Services table since the pizza slices were being closely guarded by an assortment of unidentified QB goons and the Henny was long gone. Stretch Armstrong also took the opportunity to quiz Havoc about what exact drink 'Dainey' was. Turns out he talking about that St. Ides, of course…
When we got back to the main arena, Black Thought was already rocking with Jam Jam Money Players or whatever the crew he has with Dice Raw is called. I can recall one of their songs featuring a chorus that declared they were 'Coming, coming, coming in hard!' or something equally pause-worthy, but then Thought finished the set with an outstanding accapella display that brought the house down.
Next up, the Wu came through as Ghost, Rae and Cappa hit the stage with a few of their boys and J-Love on the decks. I'm pretty sure that Ghost and Cap found an old dust blunt from 1987 and smoked that shit before they hit the stage on some throwback shit, because the two of them proceeded to dance around in a highly comical manner for the entire set. Cappadonna's moves were a combination of struts, shimmys and something that can only be described as some kind of Staten Island lap-dance (pause). Since 95% of the crowd was clearly raised on the Wu, it ain't no mystery that they tore shit up and got a bunch of 'W's thrown in the air, and when Stark's declared that everyone in the audience was a 'real nigga', it was like shooting fish in a barrel.
Eventually, the Infamous M.O.B.B. ambled onto the stage, entering through an over-sized project doorway. It was then that I was overcome with a feeling of horror…was that a…band on stage? For some ungodly reason, it appeared that we were about to witness a Las Vegas-style Dean Martin show. I'm sure that in three months time the whole show will be pretty tight, but on this particular night, it sounded like they'd meet the band for the first time at sound check, maybe rehearsed for a total of five minutes and scribbled a set-list on the back of a napkin. Cues were missed, sometimes the band played too fast over the backing track and the kid on the drums was playing like this was a Van Halen concert, which effectively drowned out the rapping altogether. I felt like I was watching a cover band at some points.
A series of guests wandering through the Giant Project Doorway scenery added some mild amusement, as Big Noyd stormed through with the excitement of a guy who was getting his first check for a concert in three years, Alchemist came through to do some of not very good rapping over one of his very good beats, and by the time Lil' Kim made her cameo appearance, I had begun nodding off. Shit was basically Hot Ass Mess status. The crowd gradually deflated their energy levels from the excitement that Rae and Ghost had generated earlier, and it wasn't until the inevitable 'Shook Ones, Pt. II' that any kind of mosh pit shit was achieved at the foot of the stage. The contrast between the quick-fire Ghost and Chef set and the uninspired deliveries of Hav and P was like chalk and cheese, and considering this was their big reunion show it was disappointing that their hearts didn't really seem to be in it. Still, it wasn't a complete loss. I got a free sandwich, after all.
Here's some footage that Dallas Penn caught while we were waiting out front and all of that:

24 Comments so far
Leave a comment
Leave a comment
Line and paragraph breaks automatic, e-mail address never displayed, HTML allowed:
<a href="" title=""> <abbr title=""> <acronym title=""> <b> <blockquote cite=""> <cite> <code> <del datetime=""> <em> <i> <q cite=""> <s> <strike> <strong>