The Four Best/Worst Rap Alter-Ego Albums Ever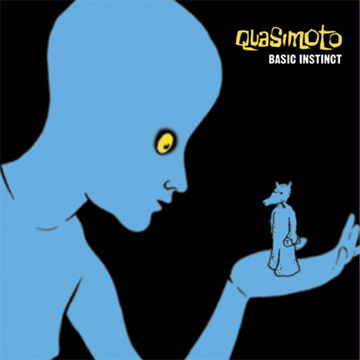 Nothing says 'I'm out of decent ideas' like the good old Alter-Ego album. For most rappers, it's not really much of a stretch to adapt another personality, since 95% of them are acting anyway (except for everyone who's gone to jail, natch). This was published in the last rag that's still willing to print my increasingly incoherent ramblings, so of course I spent a whole five minutes throwing it together…

Best:
Quasimoto – The Unseen
It's the oldest trick in the book – pitching-up your vocals to make it sound like a wacky character is joining you on the record. Despite this, Madlib created a mind-bendingly enjoyable album, which saw him trading off verses with his miniature, hilariously ignorant  Alf-like alter-ego (if you don't know who Alf was, consider yourself spared). In theory, it should have ended-up sounding like a self-indulgent collection of stoner mumblings, but thanks to some of the finest beats of his varied career, it all makes sense. 'Come On Feet' sums it all up perfectly, as the loop from La Planète Sauvage combines with Dolemite vocals snippets for a brutally dusted tale of confusion and anguish.
Viktor Vaughn – Vaudeville Villain
When KMD's Zev Love X re-invented himself as MF Doom, it signaled one of rap's finest returns to recording. While King Geedorah was an interesting take on the Monsta Island theme, it was Viktor Vaughn that proved to be the most intriguing of his characters, featuring the teenage incarnation of Doom from an alternate universe, dabbling in time travel in search of stolen Donkey Kong Game & Watches until he finds himself stranded in Brooklyn in the 1990's after his 'gizmo-gadget' breaks down. Some of his other escapades include his attempts at smooth talking his teenage love into letting him get to home base on 'Let Me Watch' and a refreshing viewpoint on the tried-and-tested stick-up kid scenario on 'Modern Day Mugging'.
Deltron 3030 – Deltron 3030
High-brow Sci-Fi Rap Opera at it's finest (although there isn't much competition in this particular genre to be honest), Dan The Automator took the vaguely interesting concept behind the Dr. Octogon record and actually did something more substantial with it, possibly due in part to the fact that Del The Funky Homosapian is twice as spaced-out and slightly less insane than Kool Keith. I'm not sure if this is actually an album you'd want to play on a regular basis, unless you consider playing World of Warcraft for 8 hours every night to be 'good times'.
Eminem – Slim Shady EP
Before the bleached hair, Dr. Dre tea parties, Mariah Carey jump-offs and pill popping, Eminem delivered an amusing example of venting your frustrations through an alter ego. What better way to wash your hands of any responsibility for your outbursts? Marshall's grisly plots to murder his ex-wife and inflict grievous bodily harm on random strangers sowed the seeds for his breakthrough album of the same name, which lacked the economy of this independent version but carried the same venomous streak.
Worst:
Bobby Digital – Bobby Digital in Stereo
For all of his genius as a producer and mastermind behind the mighty Wu-Tang Clan, The RZA has never been much of a rapper by comparison. Not to say that he hasn't been responsible for some moments of mush mouthed brilliance, but the Bobby Digital concept was a lot better as a comic book than a rap record. I can't recall a single noteworthy moment from any of the 3 LP's that Prince Rakeem has issued under this nom d'plume, other than perhaps the random declarations of 'Bong!'. Wearing a Zorro mask does not an engaging character make. To be honest, the most notable fact about the character was the nemesis that it inspired at the hands of Kool Keith, who created a character named Robbie Analog as a direct retort to what he believed to be RZA borrowing too heavily from the masked character from his Sex Style album…
Kool Keith – Black Elvis
Kool Keith is the undisputed champ when it comes to wacky alias rap, however this major label project was big time boring. With the exception of the Dr. Dooom and Dr. Octogon, the majority of Keith's personas are just slight variations on what he would rap about normally, except he's wearing different costumes on each cover. Years later, Pharoahe Monch made the mistake of releasing a single that attempted to blend Andre 3000's pop phenomenon 'Hey Ya' with his own interpretation of the Black Elvis concept in the clip for 'Body Baby', with equally disastrous results. The lesson? Don't channel Elvis, ever.
Jay-Z – American Gangster
Need to churn out another album of worn-out hustling tales without offending Oprah?  Why not make a 'concept' album where you play the role of a – you guessed it, a hustler. But without any real narrative structure, it falls completely flat, other than serving as a welcome relief from the Yacht Rap attack of Kingdom Come.  On tracks like 'Success' and 'Ignorant Shit' he seems to have forgotten about the album's theme altogether, and the guest spots detract and distract even further from the vague thread that runs through the project. Mentioning pushing weight on every track hardly constitutes great storytelling,
T.I. – T.I. vs T.I.P.
Before he got arrested with a car full of drugs with his weed carrying wifey in Vegas, Cifford released what would have to be the most pointlessly half-assed concept albums in recent memory. Attempting to document his 'suave CEO' T.I.P. T.I. side battling it out with his 'street-level Trapper' T.I. T.I.P. persona for control of his soul, the result is a half-baked collection of self-indulgent 'pop' and 'street' songs which takes 73 minutes to fail to match what Redman so effortlessly achieved with one track on 'Redman vs Reggie Noble'. The two warring personalities only meet once in a single verse, which makes the whole exercise a pointless anti-climax really, and as recent events have revealed, T.I.P. never stood a chance in hell anyway.
33 Comments so far
Leave a comment
Leave a comment
Line and paragraph breaks automatic, e-mail address never displayed, HTML allowed:
<a href="" title=""> <abbr title=""> <acronym title=""> <b> <blockquote cite=""> <cite> <code> <del datetime=""> <em> <i> <q cite=""> <s> <strike> <strong>