Download: LA Rap – The Good Old Days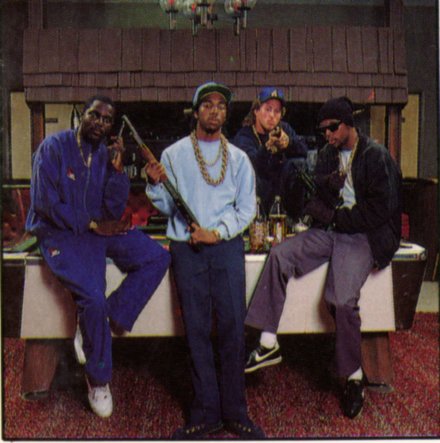 There was a time when I was rocking as much, if not more, LA Rap than I was stuff from New York. This was a time when rapping about shotguns over old Zapp loops was all that was required to impress. So in the spirit of rap blogging from 2006, here's an hour of great Californian rap music to drive by.
Download: LA Rap – The Good Old Days
Track listing:

1. CPO – "Gangsta Melody"
MC Ren produced and featured on this side project, and everything about it is great.
2. Breeze – "T.Y.S.O.N."
Fresh off working with LL Cool J, the LA Posse brought out their own MC over this punishing track.
3. South Central Cartel – "Ya Getz Clowned"
Stereotypical LA Gang Story Rap at at it's finest. These Roger Troutman beats never get old.
4. Bloods & Crips – "Bangin' On Wax"
Sure, the truce didn't last but at least we got this P-Funk banger out of the project.
5. WC & The MADD Circle – "Hood Rat"
Ignorant LA classic.
6. CMW – "Rhymes Too Funky"
The original version of MC Eiht and Chill MC's debut on wax. Effin' awesome.
7. Eazy-E – "8 Ball (Remix)"
Thanks to Cube's penmanship, Eazy almost sounds like he can rap on this. Also, anything with guitar stab is dope by default.
8. Above The Law – "Livin' Like Hustlers"
Proving, once again, that sampling is better than synths.
9. Kam – "Every Single Weekend"
Best song about weekend warriors ever.
10. King Tee – "Just Clowning"
DJ Pooh, Breeze and Mixmaster Spade lend an assist for this '88 banger.
11. Da Lench Mob – "Lost In the System"
J-Dee details getting locked-up in fine style over a rolling track. Bonus points for use of the term "serpent" in reference to white.
12. Low Profile – "No Mercy"
WC used to be quite the wordsmith in his younger days.
13. Threat – "Bust One Fa Me"
The last great LA Rap album as far as I'm concerned.
14. NWA – "Real Niggaz"
Dr. Dre absolutely kills shit with this track, while MC Ren steps up to compensate for Cube's absence.
15. Ice Cube – "The Product"
The pinnacle of Ice Cube as a cutting-edge song writer.
13 Comments so far
Leave a comment
Leave a comment
Line and paragraph breaks automatic, e-mail address never displayed, HTML allowed:
<a href="" title=""> <abbr title=""> <acronym title=""> <b> <blockquote cite=""> <cite> <code> <del datetime=""> <em> <i> <q cite=""> <s> <strike> <strong>