The Unkut Guide To The New Music Seminar Battle For World Supremacy
Tommy Boy Records founder Tom Silverman started the New Music Seminar in 1980 as a music industry networking event, and in 1985 introduced the MC and Beatbox Battle for World Supremacy (the beatboxing was replaced by DJ's the following year), which would provide a fertile showcase for both new and established rappers and DJ's to make a name for themselves. The following is a selection of memories from some of the rapper dudes who either competed or were in attendance.
Role Call:

MC Chill – Cleveland born rapper who signed to Fever Records and had a couple of hits with "MC Story" and "Bust That Rhyme."
Mikey D – Queens street battle legend who once ran with LL Cool J and would later replace Large Professor in Main Source.
Percee-P – Bronx lyricist who battled Lord Finesse and gave the world the flawless "Yes, You May" verse and "Lung Collapsing Lyrics."
Johnny Juice – Founding member of Kings of Pressure and long time Public Enemy associate.
Uptown – Brooklyn MC who gave us "Dope On Plastic" and featured on a number of Buckshot LeFonque records.
Freshco – BK rhyme slinger who formed a group with fellow NMS champion DJ Miz and later recorded with Biggie Smalls.
Prince Paul – Stetsasonic's DJ and production mastermind behind De La Soul.
MF Grimm – Former battle rapper who went on to work with Kool G Rap and MF Doom.
AG – Showbiz's MC partner and founding member of Diggin' In The Crates.
MC Chill: I first went to the New Music Seminar in '85 when I came to sign the deal with Fever. That was the time when Roxanne Shante and Busy Bee battled each other in the finals. Busy Bee won, but clearly Roxanne Shante actually won. Kurtis Blow was a judge, and I can remember him saying, "I'mma vote for Busy Bee because he's from the old school!" We started a whole Cleveland dominance in '85, because another beatboxer – Earl Hollerman – won. He beat Wise from Stetsasonic in the finals. That was the last year they had human beatboxing in the New Music Seminar. Since Tommy Boy basically ran the New Music Seminar, I said to Funkenklein, "How can I get some people into the World Supremacy Battle? I got this kid named Bango, The B-Boy Outlaw". He was like, "Maybe we can make him an alternate". They thinking they got all these New York people, they got a couple of LA people, and I'm trying to put these people from Cleveland. They thinking we don't stand a chance!
So I get Bango in as an alternate, and he ends up getting in. "OK, we got your boy in, Chill. He better be good!" I'm like, "Oh, he's gonna be good!" [laughs] So Bang comes in – and he's doing real freestyles. You got cats doing writtens and then they add something at the end – and he made it to the final four. He did such a good job that they said, "OK, next year your boy's back in." I was saying, "I got this other kid named Serge." Serge was an acronym for Serious Effects Rhymes Giving Education. Serge started coming up the ranks of the Conflict as the next hot freestyler. By then, Bang had hooked-up with Ice-T, so by the time he came back next year, he was basically reppin' Rhyme Syndicate and not the Conflict. So I'm saying, "I got another kid who may be even better than Bango – this guy Serge", so they got Serge in as an alternate, so he was there but he didn't get to go in that year. At that point, Bango had moved to LA, and he knew that if Bando got in the same year he was in it, it would come down to him and Serge. So Bango got to the finals with Mikey-D and lost to him. Again, I thought that Bango clearly won and a lot of people that was there thought Bango won, but if you're from Cleveland you're not gonna come up and win the New Music Seminar – not in New York and not in the MC battle.
Mikey D: That seminar was the illest experience of my life, and the most memorable time of my whole career. All of my years of battling paid off at the New Music Seminar. Mantronik heard about us out there, and Mantronik wanted us to get down with Sleeping Bag so he could produce. So Sleeping Bag signed us off Mantronik's word and they asked me, "If I enter the seminar, do I think I can win?" And I said, "Yeah!" so i went. The first round was a preliminary match, I had to go up against one of my friends from Jamaica, Queens – Mr. Z. He did "We Drink Old Gold." We went two rounds, I beat him, and then we had to come back the next day. That night we partied all night, 'cos a lotta seminar events were going on. We didn't get home until the crack of dawn, and then I had to come all the way back to the city. I didn't get no sleep, and the whole of my crew that was with me, nobody woke up. Only me and Johnny Quest went back. I was exhausted, but the adrenaline rush from being around all of the celebrities and knowing I'm about to battle knocked all of that tiredness and hangover stuff right out me. I was good! I must have gone six or seven rounds against different rappers. It was two rounds a piece until you got to the last round. I battled King Sun, I battled Bango, MC Serch and a few others in between. Bango was the last person that I had to battle, and then I won the competition overall.
Johnny Juice: I was runner-up in the '88 New Music Seminar Battle For Supremacy, behind [DJ] Scratch. That was fucked-up because my needles got stolen at that event, along with half of my records. That's the night Mikey D battled Melle Mel, and Melle Mel took his belt and left. Melle came up on stage dressed like a World Wrestling Federation dude. He had these tights on and a dude with him who looked like a referee [Grandmaster Caz]. Dude was wearing a white and black striped shirt and the black pants. [Melle] said: 'To be the man, you gotta beat the man! Whoever wins takes both belts home'".
MC Chill: Melle Mel just walked up on Mikey-D with his belt from last year – the '87 belt – basically saying, "Hey, put your belt up against my belt!" Mike is like, "Ehh, I don't know…" and all the people are like, "Dude, don't do it!"
Mikey D: He's talking about :He's nobody! He don't deserve this belt!" I said, "I'm not gonna battle you for the belt, 'cos I just won this!"
Johnny Juice: But the crowd was like "Come on! What the fuck? That's some bullshit! You gonna let him talk to you like that?" So Mikey was like, "Alright, fuck it! Let's do it!"
Mikey D: So he said his shit, and I liked it – it was pretty cute. But then it was my turn. Now this guy had the nerve to start doing push-ups on stage! I tell the guys with the SP-12's, "Turn the music off!" and I started goin' on him, off the beats of his push-ups! The crowd went wild! That was round one.
Johnny Juice: Mikey came back on his second verse and destroyed Melle. Mel came back and started doing a written rhyme – it wasn't even a battle rhyme – and everybody started booing. In the middle of his rhymes he was like, "Well fuck y'all motherfuckers! I'm takin' the belts anyway!"
Mikey D: Grandmaster Caz picked both of the belts up, when I had my back turned, and started walking off!"
MC Chill: Then gave it to Mel and they both walked out through the crowd like, "Somebody take it from me!"
Johnny Juice: Mikey didn't try to stop 'em, and that pissed me off. I'm thinking, "Don't let that motherfucker walk off the stage with your belt!" and he walked the fuck out! Mikey's just standing there. I think he's in shock.
Mikey D: Everybody that said they was ready to do something to Melle Mel. I said, "No, don't do it, 'cause it's gonna look bad on my part." Big Daddy Kane was tryin' to stop Melle Mel. He pushed Kane right down the stairs! He mushed Jackie Paul in her face! Jackie Paul, a main baller in the New Music Seminar! It was ridiculous, man. Grandmaster Flash came to me two days later, apologising for Melle Mel's actions. And what did Tom Silverman and them do? They made me a bigger and better belt. [laughs]
Percee-P: We was with Steve D when he won his championship in New Music Seminar. As a matter of fact, the 1990 New Music Seminar – I was actually one of the MC's that was in the battle. I won, actually to be in the battle. I didn't win the championship, but I actually won placement, 'cos you know to be in the New Music Seminar you had to send in tapes – like three verse or four – on a cassette tape. Ekim sent in a tape and I sent one in too, and I got picked. And Ekim got in it too. He didn't win, and I didn't win either – but we got in! That's where I met Maestro Fresh Wes. I didn't win, but a lotta people came out to see me. Lord Finesse was telling Ice-T about me and all of them.
Uptown: I battled for World Supremacy – that was the year that Freshco and Miz won. At the Battle for World Supremacy, you get two turns to rap. One of my gimmicks was, "Alright, I'm gonna give everybody they turn turns, and I'm only gonna rap once!" When I started taking people out with the one rap, it was like, "Oh shit! He's not playing!" That same year Masta Ace was in there, Lord Finesse was in there. I beat one of the guys from the Dismasters [in the early rounds]. I made it to the semi-finals – it was me, Serge from Ohio and Freshco. When we get into the final round, one of the associates of Tommy Boy comes up to me and says, "Freshco's '4 At A Time' is doing great right now, it would be real good if he won this contest." I'm like, "What? What are you asking me to do?" While I'm talking to them, my time was running out. So I had to run on stage – if anyone has video tape of that final, you'll see I run on stage and tried to come-up with something real quick – and then Freshco kinda capitalised on it, "Why was you takin' so long, are you scared of me/I don't think you was prepared for me!" He said some real slick shit and he won that title. I was like, "How in the world…?" The New Music Seminar wrote a long article about it, 'cos while everybody was doing those battle raps, I was actually doing speed raps, I was rhymin' backwards – it was a big thing. That was the same year where Miz won, but DJ Aladdin also got kinda jibbed.
Freshco: DJ Clark Kent said, "Fresh, you need to join the New Music Seminar", and that sent chills down my spine. Everyone that knew me knew how good I was, but the world didn't know. I think Clark Kent was trying to say, "There's a way to do this. Go into the Seminar and show everybody". And that's what I did. In July, 1989 I won the New Music Seminar, and people were like, "Oh my god, we didn't know!". Everybody was there, it was the perfect platform. Diddy, Just-Ice, Ice-T. It ended up being a really nice thing for me. I think it was 8 rounds, 16 verses, so you went two verses against each person. That contest started somewhere around 9am and it wasn't over until late that evening, so I was battling all day long. People would say this is a contest that rapper's who have records out on the radio were afraid of. If one of the big rappers entered the New Music Seminar and lost? It would be a problem for them. You don't enter this thing if you are already out there, because it's just too dangerous.
MC Chill: The next year I got Serge in, they were like, "OK Chill, you had a good pick last year, let's see how you do this year with your person". That year the Juice Crew had done their big thing, and Master Ace was their guy that I guess was supposed to win. Him and Serge went first, that was Serge's first battle, was against Master Ace. So I told Serge, "We better get in first while they don't even know who you are. Ace probably think he got a kid from Cleveland and it's gonna be a walk through". Little does he know, he got a battle coming! Master Ace kicked rhymes about who he was down with and he was part of the Juice Crew and this and that, and Serge came and hit him in the head with, "If Run was your father and D was your mother, if somebody was your sister and so-and-so was your brother, if you went to school and KRS taught the class, I would still say a rhyme that would wax your ass!" The crowd went nuts and Ace never recovered from that. There was a little break before the quarter finals, and Craig G – upset that his boy got eliminated – got on the mic during halftime and started going after Serge. So one of the coolest things during Serge's battle is that when he got back for his next battle he started rapping against the guy was rapping [against] and then he said, "OK but I gotta straighten out something first", then he dissed Craig G with a couple of verses in response while he was in the crowd, then went back to the guy who he was actually battling and beat him! He made it to the finals against Freshco, and again I suggest that the Cleveland correspondent won that round. If you look at the tape – I hate to say that the fix was in, but in an MC battle, whoever gets to go last will probably win. MC Serch was the MC for the battle, and he did the coin flip. Serge actually won the coin toss, and then Serch said, "OK Serge, you go first!" I'm like, "What kinda shit is that!? He won the coin toss! Why did y'all make him go first?" Freshco was nice, and I'm sure that I'm biased, but most of the people there thought that Serge won.
Freshco: No one was ready for what I was going to do! These guys went into the contest with maybe a good rhyme here and maybe a punchline on bar eight and a punchline on bar fourteen. I went into that contest with a punchline every two bars. It was like if somebody takes a razor blade and starts slashing at your face. There was nothing anybody can do! I went up against Mikey D. I went against him, and I beat him. Kool Moe Dee dissed Busy Bee back in the day, and every bar was a death blow. So when I went into the New Music Seminar I tried to do the exact same thing as Kool Moe Dee, from which there's no coming back from! All these guys looking at the wall, and make-up a rhyme about the wall? I ate them all up! Mikey D was supposed to be "the guy," like no one could beat him. Before he went against me, he was thinking he was gonna eat me up, and I'm thinking, "You are not going to be able to survive this! Not with these little raps about 'garbage cans' and all this stuff. That's not gonna work against me!" The guy that I battled in the finals was MC Serge, and he was from Cleveland. I think I did my best stuff against Serge. I was a fan of Serge, after the contest. When I watched the footage, his style and performance were the smoothest thing ever. I still believe I rightfully won, because every other bar I was coming strong, and Serge kinda did that thing – every few bars you would hear something cute – but I was going for heads.
MF Grimm: I was there for just about all of those battles. If you were an up and coming MC, there was no way you could not be in the Battle For World Supremacy and talk about you've got an album coming out. People would not take you seriously! You had to be in that. There was one cat that went against Masta Ace, his name was Bango. Masta Ace was the favorite, but he gave it Masta Ace that year! Bango was a problem back then. Ice [T] used to be there, I know Ice through Sun. Bango and Finesse both went to Rhyme Syndicate then. Lord Finesse battled Mikey D and Lord Finesse won. I used to be with DJ Aladdin all the time too, we were really tight.
Mikey D: I came back the next year and they put me up against Lord Finesse. They had judges this time and they said Lord Finesse won. Unfortunately they said his rhymes were better than mine, it wasn't the crowd's decision.
MC Chill: At that point, I'd brought Bango and I'd brought Serge, so now they like, "Chill, you got the golden ticket brother! Whoever you callin' out from now on, you got an automatic in!" So I got this kid Dale – Chilly-D – this white kid. And they're like, "Oh damn, Chill. Now you got a white kid? I guess he can freestyle too?" Serge, in my opinion, took the competition a little too lightly that year and he got eliminated in the first round, being a little too casual. He went to the first round thinking that he had a pass to the finals, and he was a little too lackadaisical, a little too relaxed. I'm like, "Dude, you in a battle and you're on stage drinking martinis like you're in concert in Vegas! Dude, this is a frickin' rap battle!" So he lost, fooling around, walking across the stage like he Bing Crosby or somebody. But Dale is still in, and I knew it was gonna be a trip 'cos he was a white cat and I don't think they was ready for that. So he took out this girl easily, and then he had to go against Treach from Naughty By Nature. The most famous line of that whole battle, which is probably the only line that anybody ever heard, because after that they just went nuts, was actually a rhyme that me and Smooth hooked-up in the back. I said, "We need to say something about his hair thing", because he always wore the du-rag on his hair. The line was, "Fetch this Treach!", then he grabbed his nuts, "'cos I don't care who brag/I'll snatch that shit of your head and blow my nose on your durag!" he went out and said that and the crowd went nuts. There was no recovery for Treach.
Freshco: The year after I won, Treach from Naughty By Nature lost to a guy from Celeverland. This white guy… I can't remember what his name was. This guy out-rhymed Treach! That's one of those stories that people don't know about. This white guy, who was a friend of Serge, he was so comfortable – he talked about Treach's du-rag. He was just funny! If some guy gets the crowd, that can be it for you. Treach did not lose because he wasn't good enough. He lost because that guy was just comfortable at being able to roll with whatever the hell was happening. The crowd was like, "Oh my god, this guy has no fear!"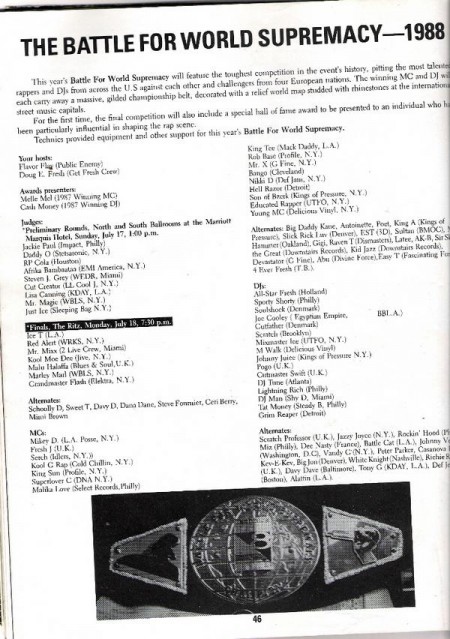 MF Grimm: I only lost one battle, and that was against Supernatural in the Battle for World Supremacy, 1993. Puffy was the judge, so what does that really tell you? You might as well have got someone from a bakery to be the judge. Clark Kent changed the rules – it was supposed to be two rounds of 90 seconds. but it was switched to one round of 60 seconds. "Grimm Reaper, you go first". I was like, "Woah!' It was a no-win situation to a degree, 'cos it left me no room to respond to what he had to say. So he won. Clark Kent was his A&R over at East/West. When you're battling against someone that's funny, there's no way you can win. no matter how dope your lyrics are. It's like a politician debating against a comedian. Laughter will always win. I learned that too with Supernatural. From the moment I lost that battle with Supernatural, I dedicated myself to being a writer. No more battling. I'mma learn to be like Edgar Allen Poe.
Prince Paul: I did that, 'LL – Cool – J – Is – Hard – As Hell', like breaking up stuff. I did that when I battled Easy G in the [New] Music Seminar in 85/86, and I used that cut to beat him. He was down with Original Concept. They were from Westbury in Long Island. Me and Easy G would turn out to be really good friends. He was the World Champion the year before, and I battled him to get into the semi-finals. That was my crowning moment. I was like, "I beat the guy who was the World Champion." That cut was the icing on the cake – that's the one that made it like, "Winner!" And I was like, "Ah! I got him!" After I did that cut, I've heard it replicated a billion times, even on LL Cool J's records! I'm like, [whiny voice] "I made that up! I invented that!" Then I heard Jazzy Jeff do it , but he did it way cleaner and way better. After that I just put my hands down, like "Meh." I gave up deejaying, and production was the natural progression.
AG: I met Salt 'N Pepa, I met Ice-T, I met Just-Ice, I met MC Lyte. I never knew I'd meet these people from television, and now here I am. Lord Finesse did real well in that Seminar – actually, he got jerked, he shoulda won – and the people were coming up to him, "Yo, you did so good yesterday." And I'm like, "Finesse – you know Salt 'N Pepa?" He was like, "Yeah, they was there yesterday!" I've got pictures with all of 'em. King Sun was the first guy in the industry to show me some real love, and I'll never forget that. We ran around the New Music Seminar together and he had "On The Club Tip" out and he had a hit song, so all attention was on him. We related from the Five Percent anyway, so he would pass the attention on to me and Lord Finesse. It used to be a real big thing and I used to look forward to it for real, and then after a while it started getting watered down. It started getting really corny – the guys who were winning weren't really supposed to be winning and the guys who lost went on to make hit records, so it was like, "OK, I'm concerned with that anymore." I was thinking about getting in it, because that's my sport, but all the dope dudes who made the hit songs didn't win, so I was like, "I'll just stick to that."
Ikey C. Vs. Busy Bee [1985]
Roxanne Shante vs. Fruikwan [1985]
Roxanne Shante vs. Busy Bee [1985]
Grandmaster Caz vs. Bango [1987]
Grandmaster Caz vs. Melle Mel [1987]
Melle Mel vs. Grandmaster Caz vs. King Sun [1987]
DJ Jazzy Jef vs. Barry B [1987]
3 Comments so far
Leave a comment
Leave a comment
Line and paragraph breaks automatic, e-mail address never displayed, HTML allowed:
<a href="" title=""> <abbr title=""> <acronym title=""> <b> <blockquote cite=""> <cite> <code> <del datetime=""> <em> <i> <q cite=""> <s> <strike> <strong>