The Influence of X-Clan on West Coast Rap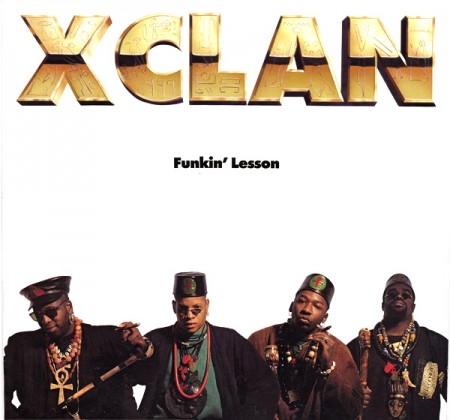 While EPMD and Heavy D had already scored hits by looping 'More Bounce To The Ounce,' the sound of the first X-Clan album really brought the most out of the whole Parliament Funkadelic movement in terms of flipping it into a entirely new context. Their combination of jazz and soul samples with the heavy funk sound created a sound that was far 'heavier' than anything we'd heard from New York, soaked in a cosmic slop that no doubt made an impression on the ears of LA rap producers. Clearly the popularity of Zapp and P-Funk on the West Coast meant that it was always going to play a major role in the pre-synth era (or Before Chronic as I like to call it), but when I had the chance to speak to Brother J back in 2007 leading up to the release of the his new X-Clan project, he confirmed this theory for me:
Robbie: X-Clan was one of the first groups to get deep into the P-Funk samples. Do you think that West Coast artists were influenced by that?

Brother J: I don't think they took it and ran with it, it's always been here. I think what X-Clan did was we took music that we love. I never sample 'More Bounce…' because I wanted West Coast artists to pick-up on my music, I sampled it because in my basement that's what we deejayed. You go to the parties, that's what we put on. I'm from Flatbush, Brooklyn, I wasn't traveling worldwide when I was making this album. I was 17, 18 years old writing To The East, Blackwards. I wasn't world orientated, I just knew when we go to the block parties, when they put on that Zapp 'More Bounce…' the crowd was crazy! When adults hear 'Knee Deep'? My father and mother listened to records. I dig in their crates and make my album! I knew what was moving the crowd I wanted to serve. It's beautiful to see that a lotta producers out here in the west coast say, 'Man, you inspired me. We used to play your album up on the big speakers when we was making Ice Cube's album and making this dude's album and this cat's album.' I've met a lot of legendary west coast cats that gave me a salute, and I'm saluting them cos they've got crystal clean sound. I'm from New York where sampling was king, and these cats are playing stuff over and got the mean band on it and the good engineer on it and their sound was just so much more cracking than what we were getting in New York. I admire Dre's production, he had the best EQ's.