The full final results can be found here.
Following a suprisingly strong voter turnout, the 2006 Weed Carrier Awards have been decided. Thanks to the WC Squad for sppreading the word, and all the blogs that linked to this shit. Last week, Harris Publications offered me a truckload of XXL Raps CD's in exchange for the rights to release a spin-off magazine in the tradition of Rides, Eye Candy, King and Donk (?!) called Bags. I said I'd get back to them.

Hey, Why Weren't These Guys Nominated? – The Most Glaring Omission From Original List Award
Winner: Flipmode Squad (16%)
In a close race, Busta's bag holders just got over the line, winning by a mere by 1% of the vote. Does this group even exists anymore? It's worth noting that between popping out seeds, Rah Digga also carried for The Outsiderz, the forgotten group from Brick City who gave Eminem his first boom stashing gig. ((1. For more on "The Lyrical Nutritionist's" weed carriers, read this.))
Runner-up: Magoo (15%)
Timbo's sidekick gave-up rapping at one stage ((2. His official reason was because he was booed offstage when performing to his hometown crowd.)) to concentrate on holding chronic. Considering that he's clearly afflicted with down-syndrome, he's done pretty well for himself to find employment that doesn't involve a "sheltered workshop".
My pick: Big Noyd
While his services may not be required anymore, since the Mobb don't have any weed to carry now that they're holding again, Rapper Noyd has been a loyal smoke stasher since the days of Juvenile Hell, and has even managed to release two albums and an EP of his own in between bodega runs.
Lifetime Achievement Award
Winner: Memphis Bleek (36%)
I guess if you're going to choose weed carrying as your career path, you could do a lot worse than holding for the Jay. Although now that's he's got a desk job, he wouldn't really have much need for Bleek's services, now would he? ((3. I'm guessing any trees that Mr. Carter requires would be brought in by courier service, so as to make it a tax-deductable expense.))
Runner-up: Spliff Star (29%)
When you name yourself "Spliff" you're fate is set in stone forever.
All-Time Greatest Weed Owners
Winner: The RZA (43%)
A very comfortable win for the mastermind behind the Wu. In my mind, his greatest trick was convincing everyone that kung-fu samples weren't corny after The Fu-Schnickens ruined it for everybody by rapping in a flying Chinese take-out box. (( 4. See for yourself – "Ring The Alarm".))
Runner-up: Eazy-E (32%)
My personal pick, since Eazy has not only spawned four generations of weed holders, but he's got The Gayme holding for him beyond the grave!
We Made It – Weed Carriers That Became Weed Owners
Winner: Jay-Z (46%)
Another big win for The Jaz's little buddy. He's also fired more ganja movers than anybody on this list. ((5. Sauce Money, Amil, Foxy Brown, Young Gunz, etc.))
Runner-up: Tupac (16%)
From his days as MC New York to his leg-shaking moves with Humpty Hump and co, Pac learned many things about weed owning from Shock G, and was quick to assemble his own WC's as soon as he had the "Juice". ((6. Bad pun alert!))
Least Talented Weed Carriers To Release An Album
Winners: The Bravehearts (21%)
In another nail-biting finish, Nas' cheeba mules take the cake when it comes to record deal nepotisim. Naming your group after a Mel Gibson flick is never a good move.
Runners-up: St. Lunatics (20%)
I voted for Nelly's homies, for the simple fact that one of those kids rocks a diamond-encrusted Phantom of the Opera mask. ((7. Bushwick Bill did that shit ten years back, biters. Andrew Lloyd Webber, hold ya head.))
MVP Cracka Carriers
Winner: Everlast (33%)
Starting out as the Rhyme Syndicate's bag boy, Everlast took a lot of LSD, shaved his head and got in touch with his Irish roots before getting a pick-up truck and a cowboy hat, while selling a gang or records along the way. Last seen carrying for Carlos Santana.
Runners-up: The Beastie Boys (32%)
From their humble rap beginnings living of Run-DMC's table scraps, the B-Boys soon figured out that the world of rock was an untapped weed holder resource, and started up Grand Royal records as a result.
Do Not Pass Go Or Collect $200: Weed Owners who started carrying again
Winner: Mobb Deep (84%)
There was never any question as to who would take out this category. The other nominations were really just tacked-on for show. While they're not selling anymore albums with the Unit, at least they get to appear in 50's videos, which should get them a couple of sloppy seconds back stage.
MVP WC Broad Award
Winner: Lil' Kim (45%)
The "plastic fantastic" jailbird came through in the clutch, as she not only held Biggie's 'dro bag, but also his rhyme book and his nut sack. Although as XXL's head honcho pointed out, Charli Whatawhore should've taken this.
Runner-up: Olivia (18%)
AKA "Oliver", this dude lady isn't playing. I wonder if Curtis has got her on the 'roids yet?
All-Time Greatest Shaq Weed Carrier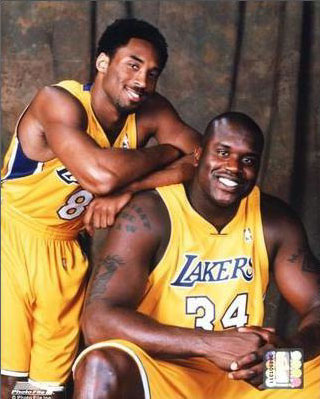 Winner: Kobe Bryant (49%)
A picture says a thousand words.
Runner-up: Penny Hardaway (24%)
I'll let Elliot Wilson handle this one: "He's a doll. Little Penny has never been the same since his giant pal jetted from Disneyland to Hollywood. Several years later, he spent most of last season riding the pine for Isiah's team and massaging Marbury's shoulders. That's real funky, you flunky."
All-time greatest/worst sibling/relative weed carrier
Winner: Ashley Simpson (42%)
Not only was her MTV show unwatchable, she's ugly as sin. Makes Jessica sound like Sade in comparison.
Runners-up: Marlon and Shawn Wayan (28%)
White Chicks = Worst Movie Ever? ((8. I doubt it. But it sucked pretty bad.))
Sloppy Seconds – A Weed Holding Legacy
Winner: Mase (53%)
This guy is the definition of a "lost soul". From Big L to Diddy to God to G-Unit? Way to downgrade, dude.
Medal of Honor – Most Tragic WC Death (R.I.P.)
Winner: Proof (56%)
This was pretty tasteless, but I've yet to receive any angry emails from any Shady fans demanding that I remove the award. I guess awards really do bring people together.
————————————
So there you have it…..it's worth noting that while no one threatened us with a lawsuit, Rampage The Last Boyscout's people sent me an angry letter demanding that he be added to the nominations for his services to Trevor Smith. ((9. Guess he's got a new album coming out?)) I'll let you know when and where the presentation cermony will be held.